How To Choose The Right Saddle Pad For Your Horse
The team at WeatherBeeta know a thing or two about saddle pads. Read our top tips on choosing the right one for your horse...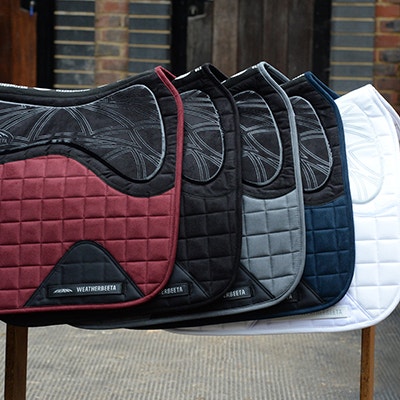 From close contact, to dressage, to half pads, and all purpose, the world of saddle pads can be quite daunting. Then there is the risk of saddle slips and pressure points, which is sure to cause a confusing list of do's and dont's.
What Is a Dressage, Jump and All-Purpose Cut Saddle Pad?
As their names suggest, a dressage saddle pad is a deeper cut, to allow for the longer leg flaps on a dressage saddle, whilst a jump cut saddle pad, or a close contact saddle pad, are designed for jumping saddles and mono-flap saddles. They are more forward cut, again to allow for the fit of the leg flaps. Similarly, an all-purpose, or general-purpose saddle pad is designed specifically to sit under a GP saddle.
What is the best saddle pad material?
When purchasing a saddle pad, it's important to consider its material. We recommend looking for a breathable fabric, such as cotton, to ensure that any sweat or moisture from your horse is quickly wicked away. Not only will this provide a more comfortable experience for your horse or pony, but it can also prevent and rubs or sores from occurring.
Did you know that the WeatherBeeta Prime and Ultra Grip saddle pads all have a breathable mesh spine for extra airflow as standard?
Benefits of a high wither saddle pad
One thing that saddlers will always ensure when fitting a new saddle or checking a current one, is the clearance above your horse's withers. If a saddle is too wide, it will sit down on the withers and cause discomfort. This is the same principle for high wither saddle pads. Too tight over the wither, and your poorly fitting saddle pad could cause your horse rubs, sores, and pain.
A high wither saddle pad is not just made for horses with high withers like thoroughbreds and warmbloods though. They are suitable for just about any horse or pony and are designed to give extra clearance in all the right places, providing comfort for your steed.
What is a non-slip saddle pad?
Many of us know what it's like to have a saddle slip. Whether that's from a girth that's too loose, or a poorly fitting saddle, we've all been there.
A non-slip saddle pad can help reduce this risk and keep the saddle more stable. Generally, a non-slip saddle pad will have a small layer or areas of silicone which sit between the horses back and the saddle panels, which acts like a sticky layer that doesn't damage leather.
Discover the NEW Ultra Grip Saddle Pad! Available in jump and dressage cuts, the Ultra Grip Saddle Pad features a silicone grip with memory foam padding to provide your horse with ultimate comfort.
What are the uses of half pads?
Half pads are used when your horse or pony changes shape and their saddle no longer fits quite as well as it used to, making them particularly useful for competition horses who are putting on or losing muscle, as well as horses recovering from injury.
When fitting a half pad, ensure that the gullet is completely clear so that it does not affect the space under your saddle. If this space has too much padding, it can cause pressure areas. That said it's important to note that if your saddle doesn't sit correctly on your horse, a professional Master Saddler should be contacted to prevent any injury to your horse.
Other benefits to look out for when choosing a saddle pad
With so many saddle pad options out there, it pays to have a list or mental note of features you want yours to include. Consider looking for saddle pads with reinforced girth areas, which help to protect wear both on your horse's saddle and on the pad itself, providing longevity.
D ring loops are also extremely useful. Too long, and they can get in the way, non-existent and you risk your saddle pad slipping back under your saddle and causing pressure points. The short touch tape loops found on WeatherBeeta saddle pads ensure easy attachment to your saddle.