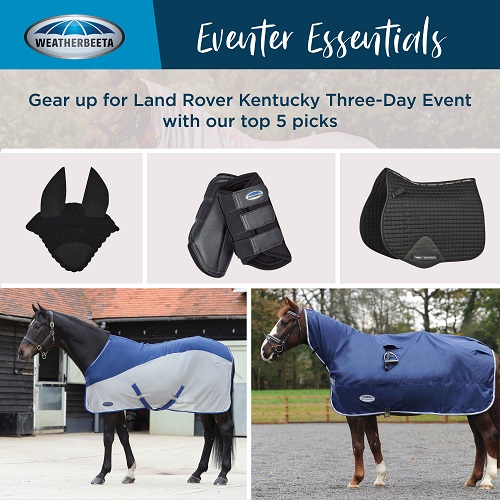 The Kentucky Land Rover Event is one of the most exciting weekends of the year. As the best horses and their teammates come together at the Kentucky Horse Park, the weekend will be packed with events and lots of shopping. We have pulled together our 5 top picks on products to get your horse, or the horse you enjoy riding.
Our Prime Range offers riders a variety of options for their horse. With head to toe accessories, the latest Prime range is comprised of color coordinating ear bonnets, boots, wraps and saddle pads. Our ear bonnets are designed in a classic crochet to allow breathability for your horse but are also paired with high density cotton drill ears to help reduce noise. 
The Single Lock Brushing Boots are made of a soft, durable and breathable neoprene with tough PVC strike pads for extra protection against knocks and brushing. Whether you plan on competing or you are looking for a pair of brushing boots to school in, the pop of color pull tabs or classic color schemes like black and navy are a great staple for your horse's wardrobe.
An All Purpose Saddle Pad is a great addition to any wardrobe. With saddle pads getting dirty and collecting hair after being used frequently, you can never have too many saddle pads! Our Prime saddle pads are designed with a breathable mesh spine to optimize airflow as well as a high wither cut design to ensure complete comfort. The durable cotton is paired with a wick easy lining so as your horse works, the saddle pad can help wick away moisture.
If you're looking for a cooler that not only helps wick away moisture, but provides your horse with added breathability, the Micro-Air Cooler is a great staple to have at the barn. This is a great cooler to have for your horse after they have been exercised or if you are traveling and your horse tends to run hot but could use a little added protection in the trailer.  Rain sheets are perfect for unpredictable weather. Not only do they protect your tack from getting wet, but they keep your horse's coat dry and clean. Even if your horse was braided and you wanted to shield their body from strong wind and even rain, the rain sheet is a perfect choice. The waterproof 420 denier outer will not rub your horse's mane or tail and added features like the surcingle front closure, adjustable belly closure and slots for stirrups make this an ideal sheet for protection.