The Weatherbeeta Spring/Summer 2023 Launch Has Landed!
Introducing the New WeatherBeeta Seahorse Print Range 2023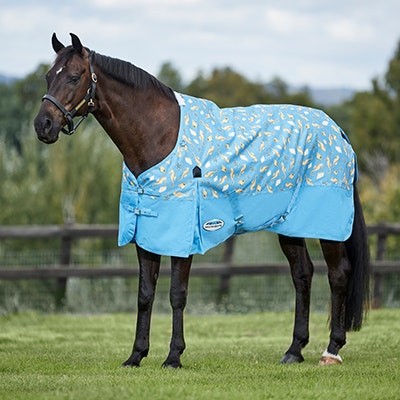 Are you looking for something new and exciting in the world of equestrian fashion? Look no further than WeatherBeeta's new Seahorse Print range. These stylish and eye-catching pieces will take your stable style to the next level. Here's a closer look at why you need to check out this unique collection.
Durable Design
WeatherBeeta is known for its quality craftsmanship, and that reputation is upheld in this collection of products. The Seahorse Print range is designed with durability in mind, making it perfect for equestrians who are looking for pieces that are built to last. The WeatherBeeta ComFiTec Essential Blanket in standard neck features a strong and durable 1200 denier ripstop outer shell with repel shell coating that is both waterproof and breathable with 0g of polyfill, perfect for the transition into Spring. Of course, the Essential Blanket comes with the WeatherBeeta 3-year warranty as standard.
Beautiful Design
The Seahorse Print range isn't just durable - it's also incredibly stylish. Every piece features vibrant colours and a beautiful seahorse print design that is sure to turn heads wherever you go. This unique pattern makes these pieces stand out from the crowd and gives them an eye-catching appeal that will make sure you're always noticed when you're out riding or competing. The Seahorse Print WeatherBeeta Fleece Cooler, Hay Bag and matching Wide Tab travel boots are a perfect combination for travelling to and from competition
Affordability
When it comes to high-quality equestrian ranges, most people expect to pay top dollar - but not with this line! Every piece in WeatherBeeta's Seahorse Print range is affordable, so you don't have to break the bank to get something fashionable, yet functional for your horse. Whether you're looking for a new turnout sheet, fleece cooler, fly sheet or Stretch Bug Eye Saver Fly Mask this Spring, you can be sure that there's something perfect for your budget in this collection.
If you're looking for something stylish yet practical for your horse, check out WeatherBeeta's new Seahorse Print range today! With its beautiful design and affordable price, this collection has everything you need - without breaking the bank! So, what are you waiting for? Shop now and find the perfect item that suits your style, as well as your budget!