WeatherBeeta Therapy-Tec Fleece Quarter Sheet
The WeatherBeeta Therapy-Tec Quarter Sheet is designed to just cover the horse's quarters and finish behind the saddle so not to interfere with the rider's leg
Features include touch tape strap that attaches to the girth straps on the saddle, making this easy to remove at home or at competitions
Therapy-Tec increases your horse's muscle function to reduce the risk of injury while warming up, by preparing the muscles for exercise
Includes ceramic fabric technology to reflect the horses own body heat
Assists in recovery after work exercise by reducing lactic acid build up which can decrease recovery time & improves the healing process of prior injuries
Tail cord
Breathable
Muscle Function
Recovery
Ceramic Fabric
Increases Circulation
The WeatherBeeta Therapy-Tec Fleece Quarter Sheet is designed to just cover the horse's quarters and finish behind the saddle so not to interfere with the rider's leg. Features include ceramic fabric technology to reflect the horse's own body heat; touch tape strap that attaches to the girth straps on the saddle, making this easy to remove at home or competitions. Therapy-Tec increases your horse?s muscle function to reduce the risk of injury while warming up, by preparing the muscles for exercise, using ceramic fabric technology to reflect the horses own body heat. Assists in recovery after work exercise by reducing lactic acid build up which can decrease recovery time & improves the healing process of prior injuries.
Breathable
Muscle Function
Recovery
Ceramic Fabric
Increases Circulation
The ceramic powder, which has long-lasting properties, is blended within the fabric, ensuring that it will not wash out. Each style in the WeatherBeeta Therapy-Tec Range comes with individual care instructions, we recommend that you follow the instructions on the care label for each individual item.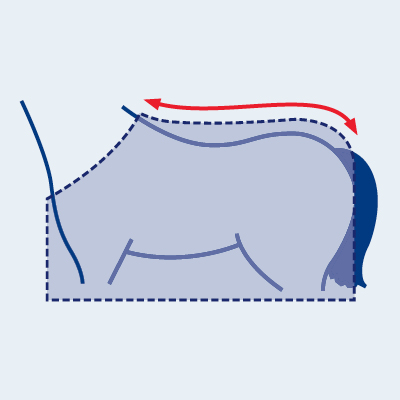 | Size | Back Length |
| --- | --- |
| | inches |
| X Small | 49" |
| Small | 53" |
| Medium | 57" |
| Large | 61" |
| X Large | 65" |
Size Chart