WeatherBeeta Windbreaker 420D Deluxe Lite Dog Coat
420 denier showerproof outer.
Full wrap belly closure.
Collar with leash hole.
Showerproof
Breathable
Lightweight
420D Strong Fabric
Strong 420 denier showerproof outer shell. Full wrap belly closure perfect in cooler months for extra warmth. Features collar with leash hole for convenience.
Showerproof
Breathable
Lightweight
420D Strong Fabric
Remove excess dirt with hose or stiff brush
Hand washing recommended with Mild soap
If machine washed, max temperature 30c/85f on a gentle cycle front load washers only
Line dry
Do not tumble dry or Dry clean
Do not use bleach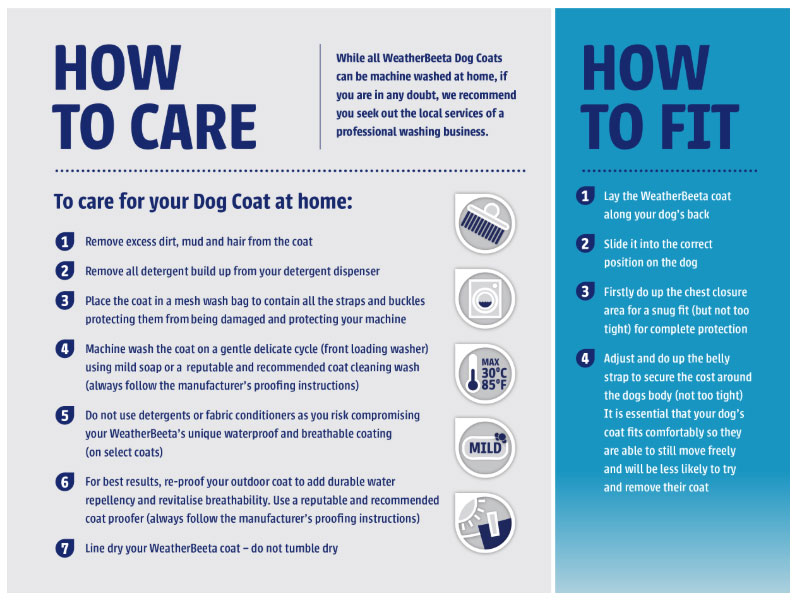 Measurement(cm)
Size
10"
12"
14"
16"
18"
20"
22"
24"
26"
28"
30"
32"
Drop
6.75"
7.5"
8.25"
9.75"
10.5"
12.25"
13"
14.25"
15"
16"
16.5"
17.25"
Neck
11.5"
12.5"
15"
17.25"
18"
21"
22.75"
24.75"
25.25"
26.5"
27.5"
30.75"
Size Chart
Fitting Guide
Fitting Guide
Step 1
Measure your dog's back from the base of the neck to the base of the tail
How to measure your dog's back length
Step 2
This measurement is what you will need to determine the size of the dog coat that you require. We recommend you choose the next size up if your dog is in-between sizes. Product dimensions are only intended for the most difficult to fit dogs.
| Size | Drop | Neck |
| --- | --- | --- |
| 10" | 6.75" | 11.5" |
| 12" | 7.5" | 12.5" |
| 14" | 8.25" | 15" |
| 16" | 9.75" | 17.25" |
| 18" | 10.5" | 18" |
| 20" | 12.25" | 21" |
| 22" | 13" | 22.75" |
| 24" | 14.25" | 24.75" |
| 26" | 15" | 25.25" |
| 28" | 16" | 26.5" |
| 30" | 16.5" | 27.5" |
| 32" | 17.25" | 30.75" |