DUBLIN
Universal Tall Boots
DUBLIN
Universal Tall Boots
Universal Tall Boots
From
As low as
$50.39
Regular Price
$62.99
✕
Dublin Tall Boots Slim/Regular Fit Size Chart
Size

Calf

Height

EU

UK

US

AU

cm

inches

cm

inches

37

4

6.5

6

32

12.60

44
17.32
37.5

4.5

7

6.5

32.5

12.80

44.5
17.52

38

5

7.5

7
33

12.99

45
17.72
38.5

5.5

8

7.5
33

12.99

45
17.72
39

6

8.5

8
33

12.99

45.5
17.91
40

6.5

9

8.5
34.5

13.58

46.5
18.35
41

7

9.5

9
35

13.78

47
18.50
41.5

7.5

10

9.5

35

13.78

47
18.50
42

8

10.5

10
35

13.78

47
18.50
42.5

8.5

11

10.5
36

12.17

47.5
18.70
43

9

11.5

11
37.5

14.76

47.5
18.70
**Please note, garment measurements are in cm and should be used as a guide only
Dublin Tall Boots Regular/Regular Fit Size Chart
Size

Calf

Height

EU

UK

US

AU

cm

inches

cm

inches

37

4

6.5

6

34.5

13.58

44
17.32
37.5

4.5

7

6.5

35

13.78

44.5
17.52

38

5

7.5

7
35.5

13.98

45
17.72
38.5

5.5

8

7.5
35.5

13.98

45
17.72
39

6

8.5

8
35.5

13.98

45.5
17.91
40

6.5

9

8.5
37

14.57

46.5
18.35
41

7

9.5

9
37.5

14.76

47
18.50
41.5

7.5

10

9.5

38.5

15.16

47
18.50
42

8

10.5

10
38.5

15.16

47
18.50
42.5

8.5

11

10.5
39
15.35
47.5
18.70
43

9

11.5

11
39.5
15.55
47.5
18.70
**Please note, garment measurements are in cm and should be used as a guide only
Dublin Tall Boots Regular/Short Fit Size Chart
Size

Calf

Height

EU

UK

US

AU

cm

inches

cm

inches

37

4

6.5

6

34.5

13.58

42
16.54
37.5

4.5

7

6.5

35

13.78

42.5
16.73

38

5

7.5

7
35.5

13.98

43
16.93
38.5

5.5

8

7.5
35.5

13.98

43
16.93
39

6

8.5

8
35.5

13.98

43.5
17.13
40

6.5

9

8.5
37

14.57

44.5
17.52
41

7

9.5

9
37.5
14.76
45
17.72
41.5

7.5

10

9.5

38.5
15.16
45
17.72
42

8

10.5

10
38.5
15.16
45
17.72
42.5

8.5

11

10.5
39
15.35
45.5
17.91
43

9

11.5

11
39.5
15.35
45.5
17.91
**Please note, garment measurements are in cm and should be used as a guide only
Dublin Tall Boots Wide/Regular Fit Size Chart
Size

Calf

Height

EU

UK

US

AU

cm

inches

cm

inches

37

4

6.5

6

36

14.17

44
17.32
37.5

4.5

7

6.5

36.5

14.37

44.5
17.52

38

5

7.5

7
37

14.57

45
17.72
38.5

5.5

8

7.5
37.5

14.76

45
17.72
39

6

8.5

8
38

14.96

45.5
17.91
40

6.5

9

8.5
38.5

15.16

46.5
18.35
41

7

9.5

9
39

15.35

47
18.50
41.5

7.5

10

9.5

39.5

15.55

47
18.50
42

8

10.5

10
40

15.75

47
18.50
42.5

8.5

11

10.5
40.5

15.94

47.5
18.70
43

9

11.5

11
41

16.14

47.5
18.70
**Please note, garment measurements are in cm and should be used as a guide only
Dublin Tall Boots Wide/Short Fit Size Chart
Size

Calf

Height

EU

UK

US

AU

cm

inches

cm

inches

37

4

6.5

6

36

14.17

42
16.54
37.5

4.5

7

6.5

36.5

14.37

42.5
16.73

38

5

7.5

7
37

14.57

43
16.93
38.5

5.5

8

7.5
37.5

14.76

43
16.93
39

6

8.5

8
38

14.96

43.5
17.13
40

6.5

9

8.5
38.5

15.16

44.5
17.52
41

7

9.5

9
39

15.35

45
17.72
41.5

7.5

10

9.5

39.5

15.55

45
17.72
42

8

10.5

10
40

15.75

45
17.72
42.5

8.5

11

10.5
40.5

15.94

45.5
17.91
43

9

11.5

11
41

16.14

45.5
17.91
**Please note, garment measurements are in cm and should be used as a guide only
Dublin Tall Boots Kids Regular/Regular Fit Size Chart
Size

Calf

Height

EU

UK

US

AU

cm

inches

cm

inches

33

1

2

1

29

11.42

39.5
15.55
34.5

2

3

2

29.5

11.61

40
15.75

35.5

3

4

3
30

11.81

40.5
15.94
**Please note, garment measurements are in cm and should be used as a guide only
How To Measure Tall Boots
To help you measure correctly please ensure you are in a pair of your breeches/jodhpurs and have a measuring tape (for apparel), chair and someone who can assist with measuring.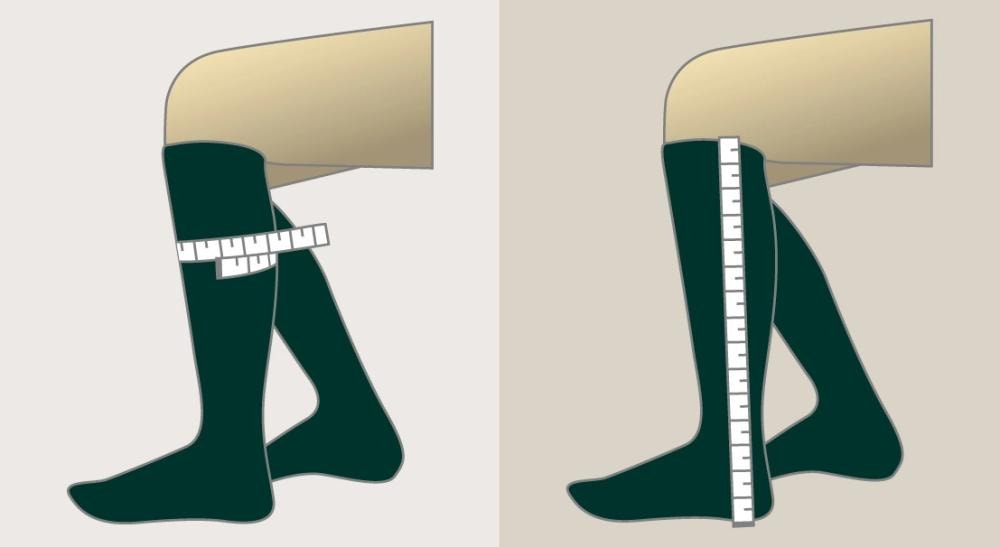 How to measure your Calf


Ensure you are in a seated position and your leg is bent. The person assisting you can then measure the widest part of your calf for you.

How to measure your Height


Remain in the same seated position (leg bent) and the person assisting you can then measure from your heel to the back of your knee where the bend is located.
When in use and overtime your Dublin Tall Boots will settle/slightly drop as they soften, these measurements shown on size charts show the height of the Dublin Tall boots before they soften and drop so keep this in mind when selecting your size and where you want the boots to sit on your leg.
Selecting a Size
You can simply choose your desired fit, if you are in between sizes you may choose to a tighter versus more relaxed fit initially by ordering up or down to nearest size, keeping in mind they will soften when in use to a degree.
You will want to consider the height desired when selecting your size and if you are in between sizes. Drop varies between materials and design of the boots so it may be numerous centimetres to inches.
Note: if you're in between sizes, we generally recommend ordering a size up.
Find A Retailer
If the item is not available in your preferred style or size click here to find a local retailer.
Overview
The Dublin Universal Tall Boot is a great value. Ideal tall riding boot for the rider. The boot features a slush moulded upper, durable rubber sole, great for competition wear and everyday riding activities. The perfect boot for a rider!
Great value Ideal rider tall boot.
Slush moulded upper.
Jersey lining.
Durable rubber sole for everyday riding activities.
SKU: 1001532000 - BLACK
Reviews
By customers who purchased Universal Tall Boots
This product has no reviews yet.