WeatherBeeta ComFiTec Windbreaker Free Deluxe Dog Coat
The WeatherBeeta ComFiTec Windbreaker Free Deluxe Dog Coat offers the best fit for active, outdoor loving dogs
Made to protect your dog on those inclement weather days, featuring a showerproof and strong 420 denier outer shell with warm and cozy boa fleece lining
The stretch gusset and arched legs allow for maximum freedom of movement
Featuring a full chest and belly wrap with adjustable touch tape closures and large collar for extra warmth and protection in cooler conditions
The contoured back seem shapes around the tail allowing freedom for tail wagging
Harness hole for convenience
Showerproof
Breathable
Harness Hole
Lightweight
Machine Washable
Muscle Function
420D Strong Fabric
The WeatherBeeta ComFiTec Windbreaker Free Deluxe Dog Coat offers the best fit for active, outdoor loving dogs. Made to protect your dog on those inclement weather days, featuring a showerproof and strong 420 denier outer shell with warm and cozy boa fleece lining. The stretch gusset and arched legs allow for maximum freedom of movement with a full chest and belly wrap with adjustable touch tape closures and large collar for extra warmth and protection in cooler conditions. The contoured back seem shapes around the tail allowing freedom for tail wagging. Features a harness hole for convenience.
Showerproof
Breathable
Harness Hole
Lightweight
Machine Washable
Muscle Function
420D Strong Fabric
Remove excess dirt with hose or stiff brush
Hand washing recommended with Mild soap
If machine washed, max temperature 30c/85f on a gentle cycle front load washers only
Line dry
Do not tumble dry or Dry clean
Do not use bleach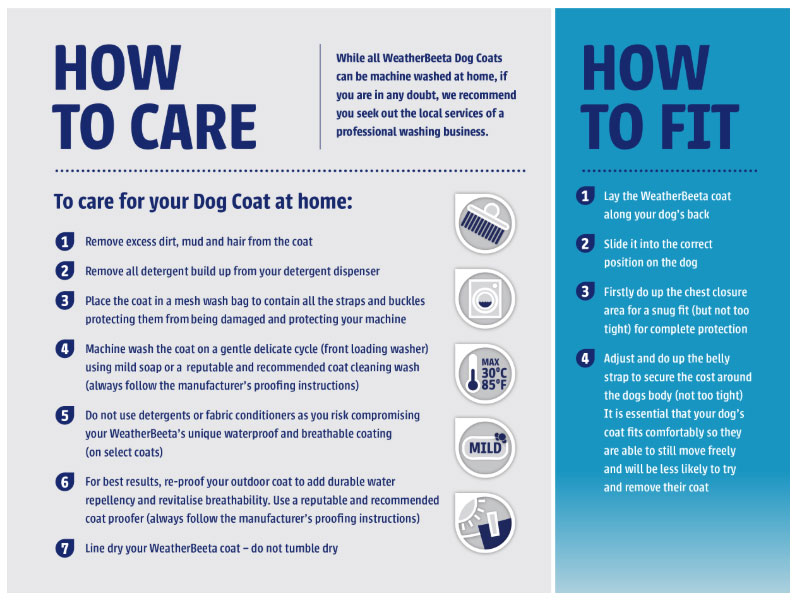 Measurement (in)
Size
10"
12"
14"
16"
18"
20"
22"
24"
26"
28"
30"
32"
Drop
5.12"
5.5"
6.25"
7.5"
8.25"
10.25"
10.5"
11.5"
12.25"
13.5"
14"
14.25"
Neck
11"
11.5"
14.25"
16"
16.5"
18.5"
20"
21.25"
24"
25.25"
26"
26.75"
Size Chart