WeatherBeeta ComFiTec 1200D Therapy-Tec Dog Coat
The perfect dog coat for getting out and exploring
1200 denier waterproof and breathable outer fabric and 100g of polyfill which are guaranteed to keep your dog dry, warm and cozy in all weathers
Utilizes ceramic fabric technology to reduce lactic acid build up and increase circulation
Perfect fit for active dogs with touch tape closures on chest and belly for adjustability and a harness hole
*Not recommended for pregnant dogs
Breathable
Harness Hole
Muscle Function
Recovery
Ceramic Fabric
Increases Circulation
1200D Strong Fabric
100g Insulating
With ceramic fabric technology, the WeatherBeeta ComFiTec 1200D Therapy-Tec dog coat is the perfect choice for active dogs pre or post exercise to warm up and down. The ceramic fabric technology helps to reduce lactic acid build-up, relieve pain associated with arthritis or simply keep your companion warm and comfortable. With a 1200 denier waterproof and breathable outer fabric 100g of polyfill and touch tape closures on chest and belly and harness hole, this makes a great choice for dogs when extra weather protection is required for example when out walking. *Not recommended for pregnant dogs.
Breathable
Harness Hole
Muscle Function
Recovery
Ceramic Fabric
Increases Circulation
1200D Strong Fabric
100g Insulating
The ceramic powder, which has long-lasting properties, is blended within the fabric, ensuring that it will not wash out. Each style in the WeatherBeeta Therapy-Tec Range comes with individual care instructions, we recommend that you follow the instructions on the care label for each individual item.
Measurement (in)
Size "A"
10"
12"
14"
16"
18"
20"
22"
24"
26"
28"
30"
32"
Drop "B"
6"
6.25"
7.5"
9"
9.75"
11.75"
12.5"
13.3"
14.25"
15"
16"
16.5"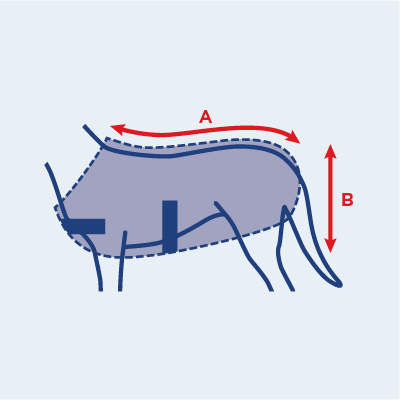 Size Chart
Fitting Guide
Fitting Guide
Step 1
Measure your dog's back from the base of the neck to the base of the tail
How to measure your dog's back length
Step 2
This measurement is what you will need to determine the size of the dog coat that you require. We recommend you choose the next size up if your dog is in-between sizes. Product dimensions are only intended for the most difficult to fit dogs.
| Size | Drop |
| --- | --- |
| 10" | 6" |
| 12" | 6.25" |
| 14" | 7.5" |
| 16" | 9" |
| 18" | 9.75" |
| 20" | 11.75" |
| 22" | 12.5" |
| 24" | 13.3" |
| 26" | 14.25" |
| 28" | 15" |
| 30" | 16" |
| 32" | 16.5" |