WeatherBeeta ComFiTec Premier with Therapy-Tec Detach-A-Neck Medium
The perfect choice for your horse both pre and post workout or whilst your horse is relaxing in the paddock
Includes ceramic lining over the shoulders back and quarters
Increases circulation
Speeds up recovery
Enhances muscle function
A strong 1000 denier ballistic nylon outer shell with Teflon coating that is waterproof and breathable
Freedom system featuring a cupped shoulder dart with forward positioned gusset for the ultimate in freedom of movement
Memory foam wither relief that contours to the horses shape lifts the blanket off the withers
Twin adjustable quick clip front closure with touch tape
Full wrap tail flap
Reflective gussets and inserts on the tail flap
Low cross surcingles & elasticized, adjustable and removable web leg straps
220g of polyfill
Hydrostatic Pressure Tested to 2000mm plus
Moisture Vapour Tested to 3000g/m2 plus
3 year warranty on hardware, waterproofness and breathability on turnout
Waterproof
Breathable
Leg Straps
Reflective
Warranty
Muscle Function
Recovery
Ceramic Fabric
Increases Circulation
1000 Strong Fabric
220g Insulating
Detach-a-Neck
The WeatherBeeta ComFiTec Premier Therapy-Tec turnout is the perfect choice for your horse both pre and post workout or whilst your horse is relaxing in the paddock. With a strong 1000 denier ballistic nylon outer shell with Teflon coating that is waterproof and breathable and 220g of polyfill. Includes ceramic lining over the neck, back and quarters. Other features include Freedom System featuring a cupped shoulder dart with forward positioned gusset for the ultimate in freedom of movement; memory foam wither relief that contours to the horse's shape & lifts the blanket off the withers; twin adjustable quick clip front closure with touch tape; full wrap tail flap; reflective gussets and inserts on the tail flap; low cross surcingles & elasticized, adjustable & removable web leg straps. Hydrostatic Pressure Tested to 2000mm plus. Moisture Vapour Tested to 3000g/m2 plus. 3 year warranty on hardware, waterproofness and breathability on turnout.
Waterproof
Breathable
Leg Straps
Reflective
Warranty
Muscle Function
Recovery
Ceramic Fabric
Increases Circulation
1000 Strong Fabric
220g Insulating
Detach-a-Neck
The ceramic powder, which has long-lasting properties, is blended within the fabric, ensuring that it will not wash out. Each style in the WeatherBeeta Therapy-Tec Range comes with individual care instructions, we recommend that you follow the instructions on the care label for each individual item.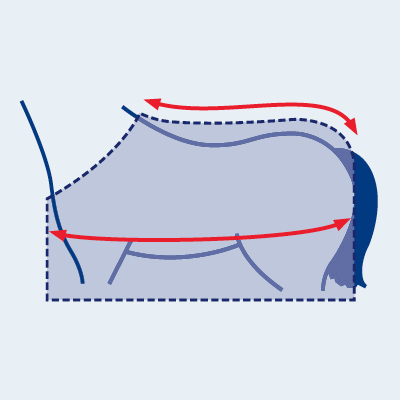 Back Seam
Body Length
Measurement (cm)
Feet Inches
Inches
cm
55
3'0
36"
90
60
3'3
39"
100
65
3'6
42"
105
70
3'9
48"
115
75
4'0
48"
120
85
4'3
51"
130
90
4'6
54"
140
95
4'9
57"
145
105
5'0
60"
155
115
5'3
63"
160
120
5'6
66"
170
125
5'9
69"
175
135
6'0
72"
185
140
6'3
75"
190
145
6'5
77"
195
150
6'6
78"
200
155
6'9
81"
205
160
7'0
84"
215
165
7'3
87"
225
Size Chart