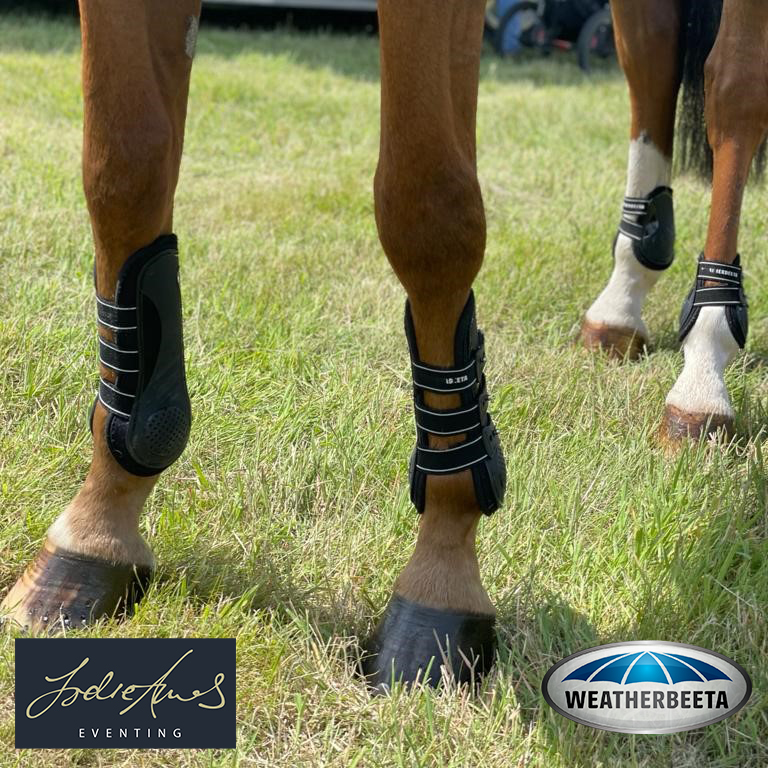 When thinking about tack and the importance of keeping a horse safe, boots are not the first thing to come to mind. However, boots offer protection to a horse's legs and hooves from injury, damage, and trauma. The type of boots needed depends greatly on the activity. For example, boots needed for travelling would not be suitable show jumping. It is important to consider the needs and requirements of a horse and the activity. Other factors such as a horse's conformation and breed will also influence whether they need boots.
Horse boots can be broken down into the following categories: Brushing Boots, Tendon/Fetlock Boots, Overreach/Bell Boots, Travel Boots, Bandages, Therapy/Medical Boots, Stable/Turnout Boots, Hoof Boots.
To help you make the right decision about what boots you need for your horse and when to use them, read our helpful guide on the most common types of horse boots:
Brushing boots are one of the most popular choices when it comes to horse boots. They are versatile boots designed to be used for training, flatwork, lunging, hacking, or turnout. They protect the lower part of the horse's leg from the opposite hoof knocking into it, which is referred to as brushing. Brushing boots also protect the splint bone which is a common area of injury for horses. Typically, these boots are made from soft fabric to allow them to contour to the shape of the horse's leg. Neoprene is a great choice of material as it is soft, durable, and breathable which prevents the horse becoming sweaty and uncomfortable. Good quality brushing boots will also have some reinforcement, such as PVC, on the inner leg to further protect from impact. Brushing boots can be used on fore or hind legs depending on the horse's requirements.
Tendon and Fetlock Boots
Tendon and fetlock boots are similar in appearance to brushing boots as they protect the tendons and fetlocks on the lower part of the leg from impact. These boots are designed to be used for jumping and cross country so are made from a tougher material to protect from more serious impacts and strikes. Tendon boots protect the horse's front legs from strikes from the hind hooves which can occur when landing a jump. In comparison, fetlock boots are used on the horse's hind legs and just protect the fetlock from brushing injuries. There are many different styles available. Open front tendon boots are more popular with show jumpers as they provide protection from strikes but allow the horse to feel if they have knocked a pole. Closed front styles, sometimes referred to cross country boots, are more popular in eventing and hunting as they also protect from impact with solid natural fences. Cross country boots are available for front and hind legs.
Overreach Boots
Also known as bell boots because of their shape, overreach boots surround the entire hoof offering protection from overreaching and other strikes. Overreaching is referred to as when a hind hoof strikes the soft heel of the front hoof. Due to the delicate nature of the heel, overreach boots are a popular choice for many activities including training, flatwork, lunging, hacking, show jumping, cross country and more. Many horse owners will use them for turnout too. These boots can help prevent a horse standing on the heel of a front shoe and pulling it off. They are also very popular with horses who have back shoes on, as they can cause more damage when overreaching. Some horses will naturally overreach more than others so may need to wear them for all activities. Other horses may only wear them when jumping due to the increased risk of impact. Overreach boots can also be worn on the hind hooves to protect from brushing strikes.
Traditional overreach boots were made from rubber, however developments in fabric technology have led to a rise in neoprene being used. Neoprene is a softer, more durable fabric which lasts longer and is more comfortable for the horse. Look out for styles with a 'non twist design', this prevents the boot from spinning round in use so the horse cannot catch on the touch tape fastening. Overreach boots may also feature a fleece trim for added comfort.
Travel boots are designed to be used when travelling a horse. Travel boots are much taller by design as they offer full protection from the hock all the way down to the fetlock. More expensive styles may include PVC strike pads to also protect the hooves from impact. Travelling a horse is a high-risk activity so these boots offer the most protection of any available. They protect the legs from strikes, impacts, and trauma that can occur when on the lorry or trailer. Travel boots are restricting in movement as they compress the legs to reduce any swelling that can occur when a horse stands still for prolonged periods of time. Typically travel boots are a wraparound style which secure with touch tape fastenings at the front for easy use. Good quality travel boots will be made of a tough outer shell for durability and a soft fleece lining for comfort. As with all boots, it is important to make sure you horse is happy wearing them before travelling. Many horses will need to be exposed gradually to travel boots before they are ready to go out.
Bandages
Bandages are truly versatile and can be used for almost any activity. Typically used before developments in boot technology, they can be used to protect from injury when riding or to offer support/compression when in the stable. Many horse owners now prefer boots over bandages as they are much easier to take on and off. Therapy and Medical Boots Therapy and medical boots are used to help a horse heal from injuries or recover from strenuous activity. Common types include magnetic boots which increase blood flow in the horse's leg, and ice boots designed to be used after exercise cooling the horse's legs faster to prevent injury. Other types of boots on the market include stable boots, turnout boots, and hoof boots. WeatherBeeta offer a comprehensive range of boots to suit your horse's needs. If you need any help choosing the right boots, please contact our customer service team who will be more than happy to help.