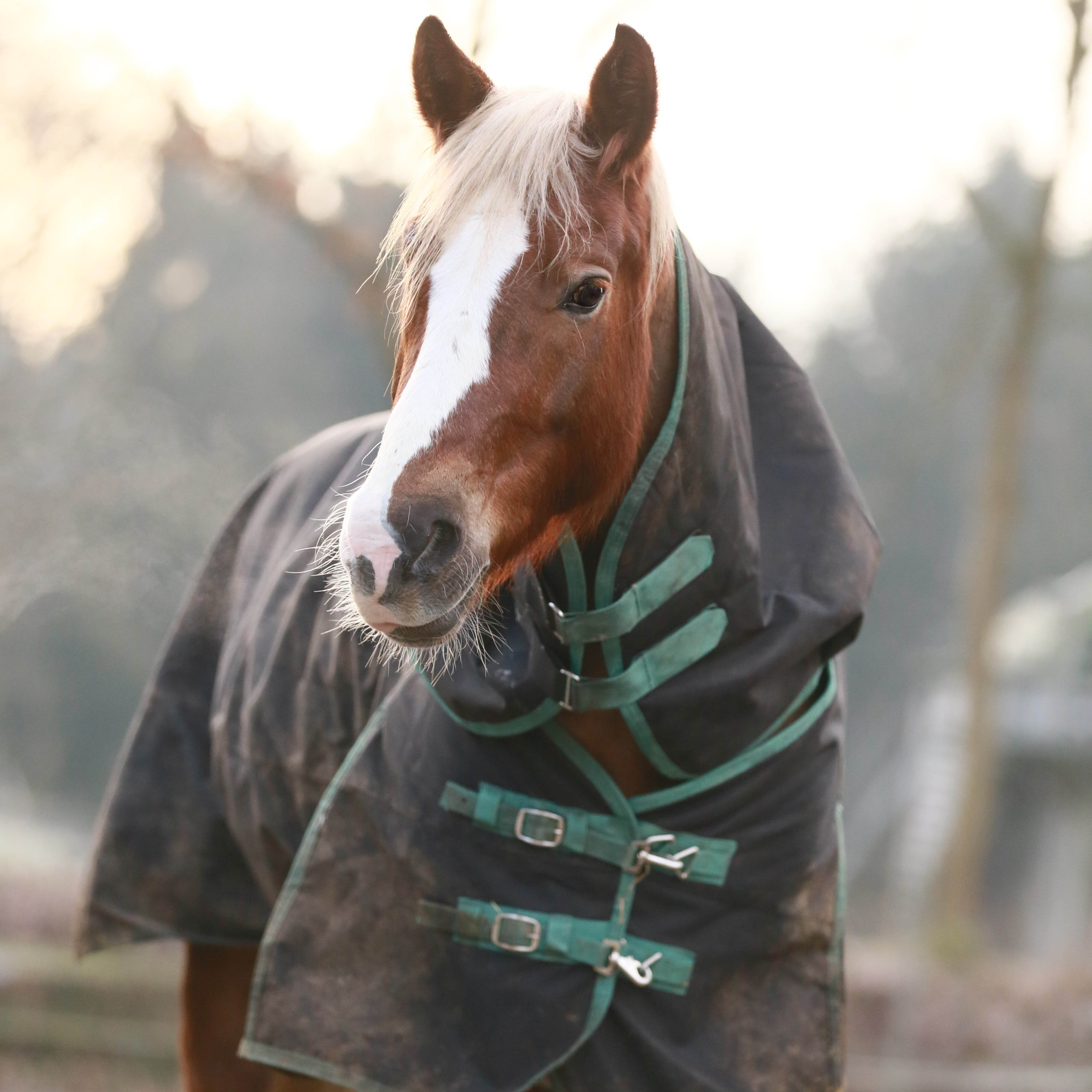 For years I have been using horse blankets from all sorts of different manufacturers for protecting my horses. But never has a blanket lasted longer than a season. It was either not completely waterproof, or it wasn't robust enough to stand up to Rico playing with his friends and it ripped. The Green-Tec is so waterproof, that Rico is still completely dry under the blanket even after days and days of rain!
Even after rolling in the thick mud, he is still completely dry! Not one wet patch on him where the blanket sits!!!
A further positive aspect is the fit. When I put the Green-Tec on for the first time, it immediately fit like a glove. At the chest it is flexibly adjustable with buckles and clips. So, it is ideal to adjust for slimmer and broader horses.
Rico is a Welsh Cob. Untypically he is quite narrow, but there is a lot of hindquarters and a sweeping shoulder; with the Green-Tec he can have fun, playfight, roll, run, ... and it doesn't move! Absolutely never!! No doubt the elasticated leg straps and the individually adjustable low cross surcingles.
We are currently using the Green-Tec Medium with removable neck, the neck blanket similarly always sits where it should. Towards the shoulder, the blanket is pleated, a bit like chinos, so it keeps nice and warm, but the warmth doesn't get trapped.
Some of Rico's 900kg (~1984 lbs) heavy horse field mates have been playfighting with him and bitten into his blanket and pulled, and amazingly nothing has happened with the blanket! Not one tear!
One point, that I really can't quite explain, is that the blanket must somehow be dirt repellent. The dirt, that Rico 'rolls' onto his blanket on a daily basis, somehow disappears on its own, as if the blanket is so well waterproofed, that nothing can stick.
The ultimate fact is: The Green-Tec is an environmentally friendly blanket! It is made from (recycled) plastic bottles, used plastic bottles, which would probably have ended up in the sea, at the beach or in our environment!
Isn't that genius?
For me the best blanket regarding functionality and idea behind it!
Rico & Jasmin
(Translated from German)