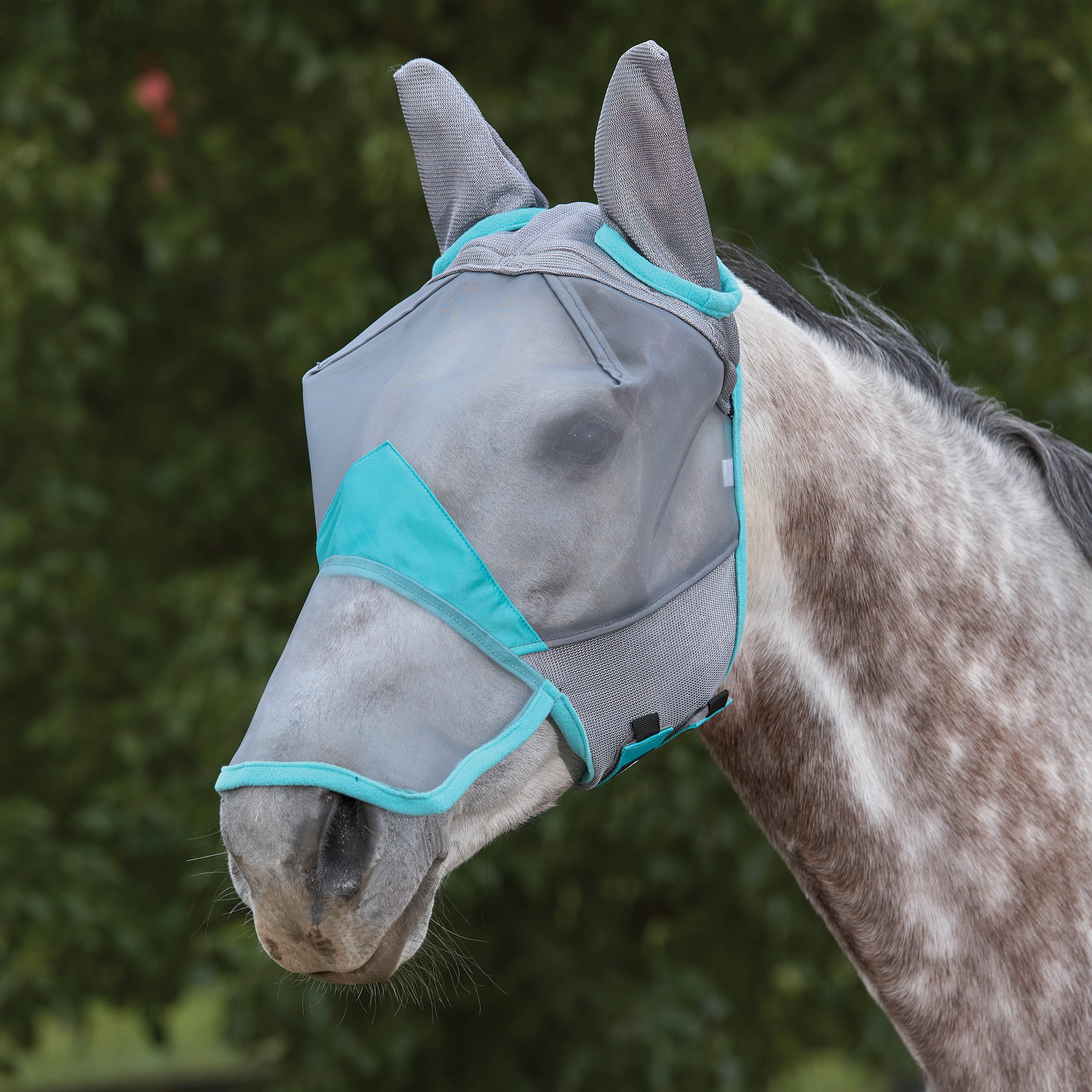 Spring may be the best season for horse riders, dog walkers, and outdoor enthusiasts alike. The clocks have changed and with it, a promise of lighter evenings and more time to do the things we love. This transitional season waves goodbye to muddy fields, freezing temperatures, and (hopefully) wet weather. The weather is now mild enough to get out and enjoy the countryside without being too warm to bring with it the problems of summer.
Of course, each season brings new challenges for all our four-legged friends. Horse and dog owners around the world have trusted WeatherBeeta for over 40 years to protect their beloved animals from the weather, and the new spring range is no exception. We have a lot of new products to show you including latest developments in technology within our mesh range to keep the bugs at bay. We have also refreshed some classic WeatherBeeta products with exciting new colors and buzzy prints. Expect to see lots of pastel blues, light lavenders, and summery hues of pink.
Let us introduce you to a few of the highlights of the range. Your horse's well-being and protection, no matter what the weather throws at us, is at the heart of everything we do… and this season is no exception. Welcome to the Spring/Summer 22 Range. Weather. Beaten.
Make a buzz with our new print
We are buzz-ing to share with you our new print for spring 2022… Bee Print! Did you know that most plants we need for food rely on pollination, especially by bees? Bees also pollinate around 80% of wildflowers in Europe, so the countryside would be far less interesting and beautiful without them. But they are in trouble. There has been a decline in their population, caused by a combination of stresses – from loss of habitat and food sources to exposure to pesticides and the effects of climate breakdown.
To help support the bees, we have teamed up with Buddha Bee Apiary to adopt a beehive for the year. Throughout the spring season, WeatherBeeta will be promoting the importance of bees with the help of Buddha Bee Apiary's qualified beekeepers, who will be providing regular updates. Learn more about our Bee campaign here. (Link to Buzzing Bee page).
The WeatherBeeta ComFiTec Essential Standard Neck Lite is one of our most popular styles, now available in Bee Print. This blanket is perfect for spring with 0g polyfill and a breathable 1200 denier rip stop outer shell to keep your horse dry and comfortable. Signature WeatherBeeta features include side gussets for excellent freedom of movement when galivanting in the field; boa fleece wither for comfort and to prevent rubbing; twin low cross surcingles and adjustable leg straps.
Shop WeatherBeeta ComFiTec Essential Standard Neck Lite Now
Complete the full Bee set with a matching Fleece Cooler, Hay Bag, Travel Boots, and new for 2022 matching Fly Masks!
Beat the bugs
It wouldn't be summer without flies! We hate to mention them so early in the year, but preparation is half of the battle. Don't get caught out on a glorious day in March by finding your old mask is in tatters. We have elevated our fly mask range this year by introducing new deluxe styles with even more features to keep your horse comfortable.
Our most popular style mask has now gone deluxe. The WeatherBeeta Deluxe Stretch Bug Eye Saver with Ears features a new zip closure under the jaw ensuring a smooth put on and take off, as well as a forelock hole for additional comfort. Protect your horse from flies, insects, and the sun with 98%+ UV protection (excluding mesh area).
Shop WeatherBeeta Deluxe Stretch Bug Eye Saver with Ears Here
Designed with vison, comfort, and durability in mind, say hello to new WeatherBeeta ComFiTec Deluxe Fine Mesh Masks. The deluxe range is available in different styles to cater for all types of horse, with 3 different colors available. The fine mesh of this mask allows for clear vision, complete with adjustable touch tape closures, soft fleece binding, and new forelock hole for a comfortable fit.
Shop The WeatherBeeta ComFiTec Deluxe Fine Mesh Mask Range Here
Marb-ellous
Following the success of the new Marble matchy matchy sets last year, we are so excited to announce the new marble colors for spring 2022. Cause a stir this season with Blue/Orange Swirl or Turquoise Swirl Mable Print! Available in the super popular Prime Saddle Pad range in Dressage, All Purpose and Jump, with matching Ear Bonnet available.
Pretty in pink
If you prefer a more understated look, you're sure to love the new WeatherBeeta Prime Red Violet! We've combined a deep red and vibrant violet to create this gorgeous shade of magenta, light and pretty – a perfect complement to the sunny weather.
There's a reason why our Prime Saddle Pads are so popular, they are designed with your horse's comfort as priority! From the high wither design and breathable mesh spine, this saddle pad sits comfortably on your horse's back, allowing airflow and extra space where needed. Made from durable cotton with a wick easy lining, this pad wicks away sweat from your horse for optimum performance. Available in All Purpose, Dressage, or Jump Shaped cut.
Shop WeatherBeeta Prime Saddle Pads Here
We don't want to spoil all the fun! There's a lot more to come this spring/summer season. Join the WeatherBeeta Family Newsletter to be the first to hear about new releases and special promotions.