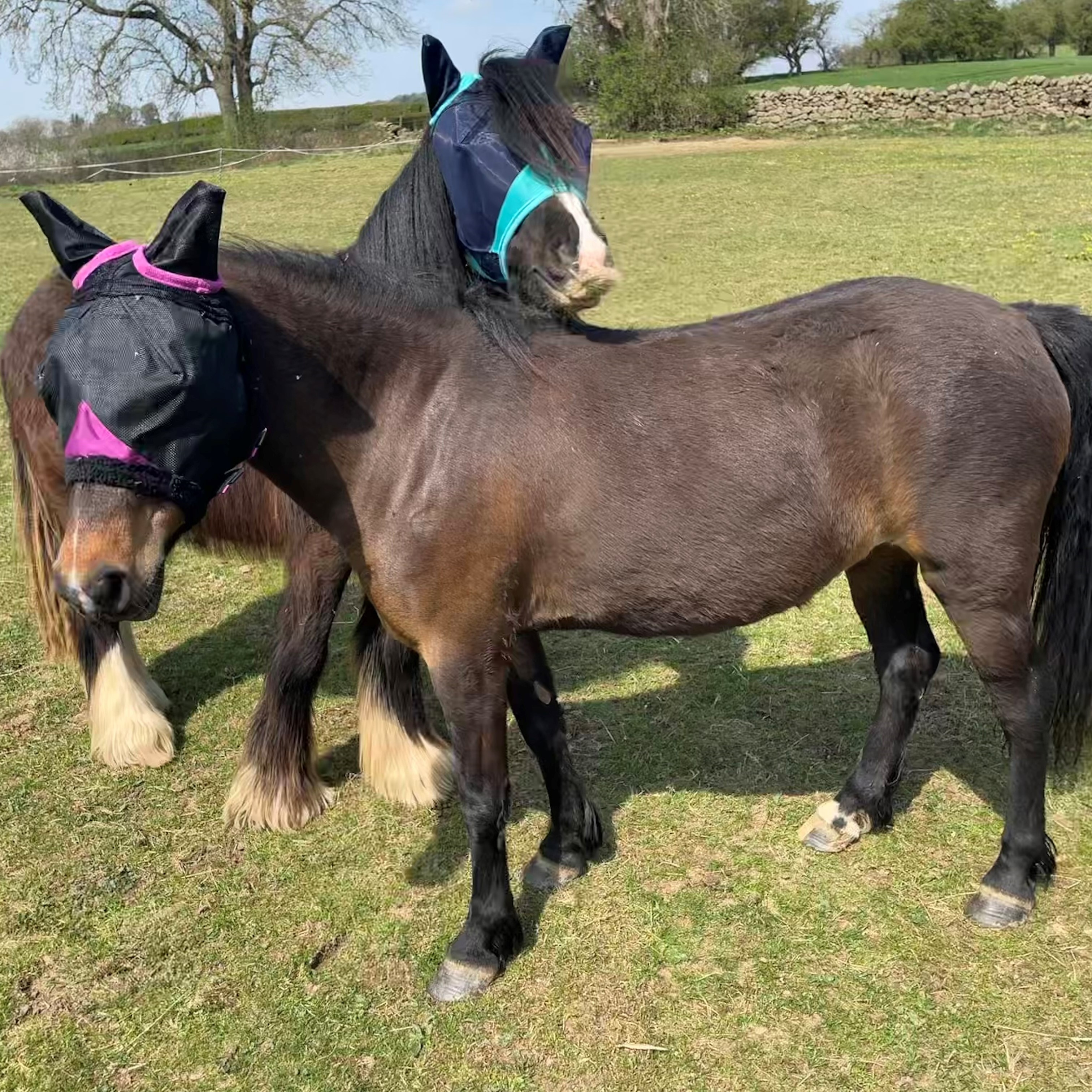 Your horse will find flies both mentally and physically irritating and will soon become distressed if persistently bothered by them. A fly mask can be used to keep flies and other insects at bay during the warmer months; at WeatherBeeta we have designed over 25 different styles to match the need of every horse and pony.
If, like little Sooty, your horse has an abundance of forelock – the WeatherBeeta ComFiTec Deluxe fine mesh mask is the perfect option. Sooty is just a baby at 18 months old and still has a lot of baby fluff – his head is growing, and he quickly feels the heat. The forelock hole allows for Sooty's sizeable forelock to be pulled through for comfort, while the twin darts allow the mask to contour around his baby face for a perfect fit.
The fine mesh material means that Sooty has adapted to wearing his mask quickly as it does not hinder his vision,
and it stays firmly in place thanks to the adjustable Velcro straps for versatility and security. The flies bother Sooty's ears, and as such he wears the fine mesh mask with ears – this style is availble with or without ears as well as with and wihout nose.
The best part is that Sooty's face is protected by the 60% anti UV properties of the mask, meaning that his little eyes are protected from the sun as well as the pesky insects.
Shop the WeatherBeeta ComFiTec Deluxe fine mesh mask HERE
Unlike Sooty, his best friend Miracle has a tiny forelock, so no need for a hole to pull it through. The flies are always trying to pester her eyes and face, so the WeatherBeeta ComFiTec durable mesh mask with ears is the perfect choice for her. The mesh is super durable and keeps the flies at bay successfully, whilst the soft fleece lining around the edge of the mask means that Miracle stays comfortable throughout the day.
Shop the WeatherBeeta ComFiTec durable mesh mask HERE
Shop our full range of masks HERE
It's important to remember that flies don't just target your horses face. Fly bites can be painful all over your horse's body, and the protective mesh of a fly sheet will allow air to circulate while protecting its coat and body from bites.
Our extensive range of WeatherBeeta fly sheets are the perfect complement to your fly mask and ensure that your horse stays comfortable from head to toe – and we have over 10 different styles and combinations to choose from!
Sooty's personal favourite is the WeatherBeeta ComFiTec Airflow II Detach-a-Neck; a perfect mesh sheet which not only protects him from the flies but is designed specifically with breathability in mind