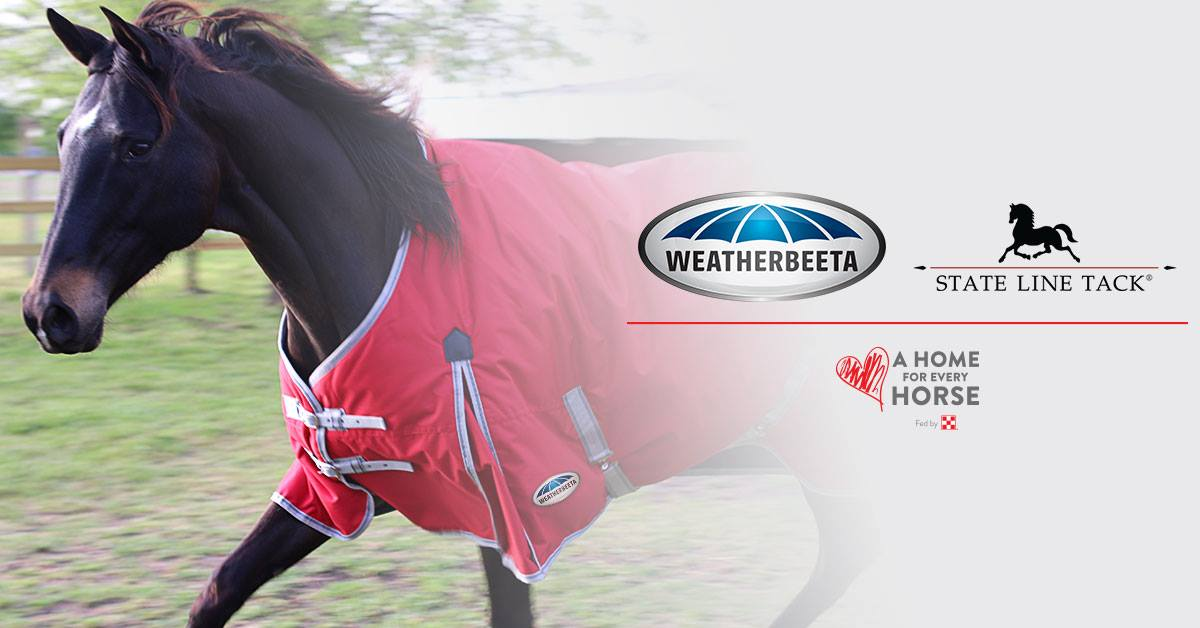 AHFEH Continues Partnership with WeatherBeeta, State Line Tack and Horse.com 
To a rescued ex-racehorse, a warm winter blanket can be a matter of life or death. Just ask Kathryn (Kate) Papp, DVM, founder of PA Racehorse, Rehoming, Rehabilitation & Rescue (PARR), whose main facility is located in Harrisburg, Pennsylvania.
A 501(c)3 organization that rehabilitates, rehomes and supports Thoroughbreds after the end of their racing careers, PARR recently received 25 new, 1,200-denier turnout blankets from the 2018 Weatherbeeta/State Line Tack blanket donation program. The timing couldn't have been better, as the rescue's blankets were in poor shape, replacements would have been expensive and winter was coming on.
"To have the support of WeatherBeeta is everything," Papp said in a new video by A Home For Every Horse (AHFEH), which partnered with WeatherBeeta, State Line Tack and Horse.com to bring benefits like this to AHFEH-registered rescues like PARR. "Our horses here—especially the ex-racehorses—have been kept in stalls, so the blankets are necessary, because they won't grow the coats that they need," she explained.
Without the extra warmth, it can be difficult for these Thoroughbreds to maintain weight and body temperature in cold weather, which can in turn lead to illness. But, like most rescue organizations, PARR—which routinely cares for 20-30 horses at its main facility—relies on volunteers and donations to keep going.
It's a mission of mercy, and one that Jessica Manson, senior account director at WeatherBeeta, says is dear to her heart. As she related in the AHFEH video, the blanket donation program (which premiered in 2018) is available through Horse.com and StateLineTack.com. When a customer purchases any WeatherBeeta Ultra or Premier blanket, Horse.com and WeatherBeeta will donate a WeatherBeeta ComFiTec™ Classic Blanket to AHFEH. Info about the qualifying rescues is then sent by AHFEH to WeatherBeeta, which selects the ultimate winner.
"A Home For Every Horse is honored to be a part of the WeatherBeeta and State Line Tack blanket program," says Amanda Bodkin of AHFEH. "It's important to have programs like this to support our rescues and help alleviate some of their costs, as blankets can be expensive and with long winters, we want to make sure that all horses that need a blanket have one."
Thanks to this joint charitable effort, all of PARR's rescued or rehabbing/rehoming Thoroughbreds now have adequate cold weather coverage, " … as long as they don't play tag with their teeth too often in the fields while wearing them," Papp said, smiling.
"Programs like A Home For Every Horse and responsible, ethical, philanthropic companies such as WeatherBeeta are role models for all genuine efforts to help horses in need," she continued. "Their efforts trickle down all the way from the top and make their way to those who can truly use their help, and to organizations like ours who may not have the manpower or time to seek out more publicity and/or who try their hardest not to continuously be soliciting the public for donations.  
"We at PARR try our very best to be self sufficient, as well as efficient, and to provide the absolute finest care to our animals without burdening others. A Home For Every Horse and WeatherBeeta make it possible for us to survive and do more by removing one less worry from our to-do list!"
For more information about A Home for Every Horse, to view the video about PARR and to learn about adoptable horses, go to ahomeforeveryhorse.com. To learn more about PARR, go to http://www.paracehorse.org.