Read below to learn more about how heat stress affects horses, and some tricks for recognizing, treating, and preventing heat stress this summer. Always be sure to check with your veterinarian for any questions or concerns regarding your horse's health. 
---

Summer is the perfect time to get your horse in peak condition. But as levels of humidity and temperature soar, so do the risks of your horse suffering heat stress. Here's what you need to know to safeguard your horse
THE CAUSE

Your horse's muscles generate heat when he's active, and sweating is his body's cooling mechanism.

High levels of humidity and temperatures can sometimes make the cooling effect of sweating less efficient.

Your horse may become dehydrated, lose electrolytes, or overheat.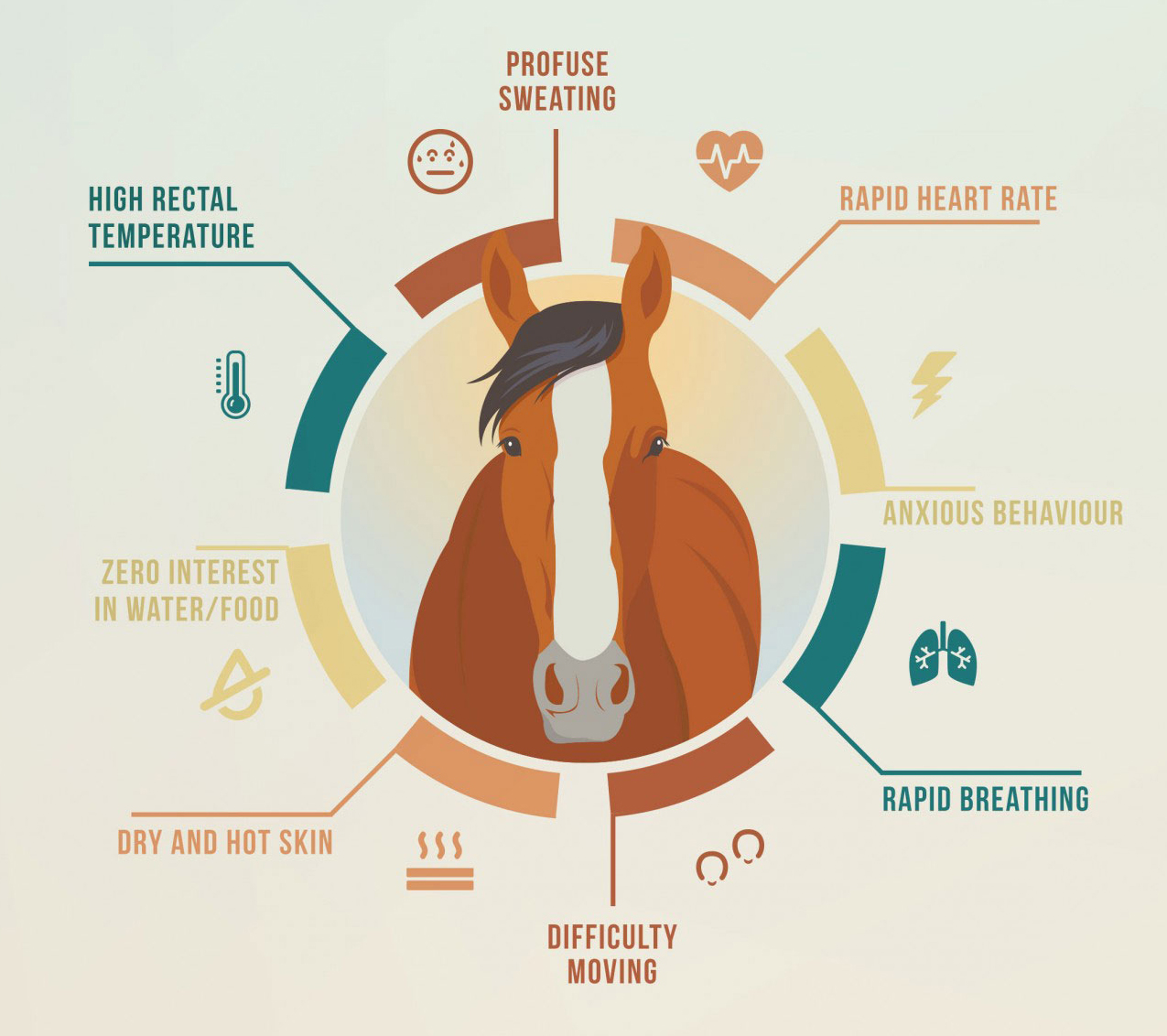 Profuse sweating
High rectal temperatur
Zero interest in water or food
Dry and hot skin

Rapid heart rate
Anxious behavior
Rapid breathing
Difficulty moving

HOSE HIM WITH COLD WATER

Hose him down the neck, shoulders, and under the belly area to increase heat transfer. Scrape water off his coat within 30 seconds; don't let him drip dry.

ENCOURAGE HIM TO DRINK COLD WATER

Water must be provided at all times. The average horse will intake 5 to 10 gallons of fresh water per day. Just like humans, different horses crave or need different water amount intakes.

PROVIDE ELECTROLYTES DAILY

Not only will electrolytes help him recover from the salt that is lost in sweat, it will also trigger his thirst, making him want to hydrate more willingly.

GIVE HIM ACCESS TO COOL BREEZE

Make sure that he has plenty of ventiliation. Place fans in barn aisles or in front of stalls, and keep the barn doors and windows open to let the air flow. 
Less than 83° F

Do work as normal with your horse

83° F to 86° F

Proceed with caution

86° F to 91° F

Skip stressful activities

Over 91° F

Consider cancelling your plans
---
Always consult with your vetrinarian for any questions or concerns regarding your horse's care.
Reference: Ann M. Swinker, Former Extension Horse Specialist
Pennsylvania State University
---