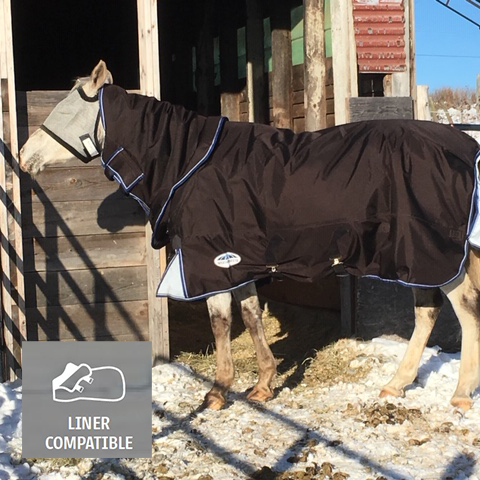 At 26, Oatsie is one of our older residents and she's often had trouble staying warm in the winter. As she is fully blind, she also has some special living arrangements, with a stall attached directly to her pasture and a mini who is her constant companion. This helps avoid the stress of turn in/out as its difficult for her to manage unfamiliar footings, but as she cannot be in the main barn we take extra special care to ensure she stays comfortable and warm. She doesn't grow a very big coat, so usually starts wearing a sheet in September and has a variety of blanket options throughout the winter. The WeatherBeeta Ultra Cozi 360g Heavy has been our go to on cold winter days, with the belly wrap & Cozi-Guard offering full head to tail coverage, and the extra large tail flap and Snug Fit protecting her from the wind.
In the past she's stayed very comfortable in a Medium WeatherBeeta Free Turnout, but we wanted something with a full neck and belly coverage as we head into the winter. I decided to order the Ultra Cozi in the 220g Medium Weight, and was thrilled to see they are now compatible with a liner system! I added in the 300g Heavy Liner, which now gives me a 520g option for the extra chilly winter nights. I've had to "double blanket" a few times in the past – which I've always been hesitant to do as I know this compromises the breathability – but when the winter nights hit well below zero we've often had to attempt to use coolers or stable blankets to add the extra warmth. This frequently alters the fit too, so even though she was warm it wasn't as comfortable as the true WeatherBeeta model.
The new liner system offers a perfect solution – giving an easy way to add extra layers on the cold winter nights. It also meant an easier purchase decision as I was able to purchase just one medium blanket and liner, instead of having to find another heavy turnout blanket with additional fill. I feel much better heading into the season knowing Oatsie will be warm and cozy in her new blankets!