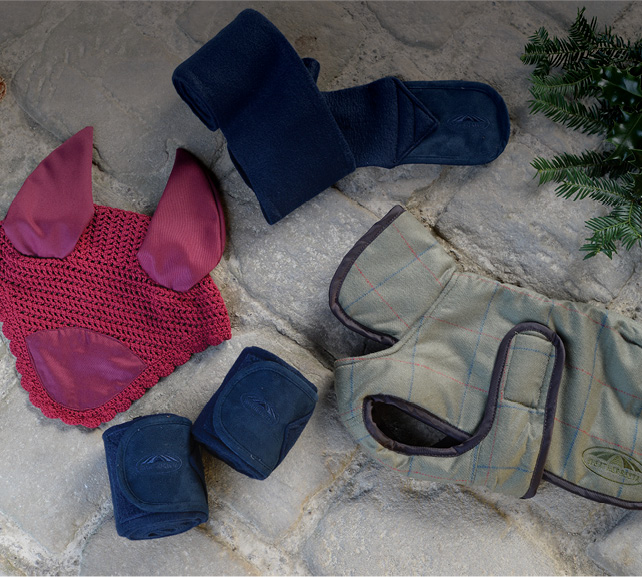 With the holidays just around the corner, we want to help you find the perfect gifts for your loved ones. Whether that may be a stocking stuffer or the ultimate gift, WeatherBeeta has something for everyone!
For gifts under $50, our WeatherBeeta Tweed Dog Coat II is perfect for keeping your four-legged friend cozy and warm this winter. With a large collar for extra warmth and full wrap chest and belly closure, this coat will leave them feeling stylish and warm. Alternatively, for a great stocking stuffer, why not mix 'n' match with our Prime accessories? Our wide array of colors will be sure to wow, so go ahead and take a look at our Prime Ear Bonnets and Fleece Bandage Packs.
Alternatively, our WeatherBeeta Fleece Cooler Standard Neck is the ideal mid-range gift to keep a horse snuggly this Christmas. Available in 6 different designs, the warm and lightweight fleece fabric, with anti-pill finish and nylon lined shoulders is perfect for all horse-lovers!
If you are looking to treat someone this holiday season, then why not go all out for the top of the range ComFiTec Ultra Cozi which is brimming in features and benefits. The ultimate strength 1680 denier ballistic nylon waterproof & breathable Teflon coated outer, and memory foam wither relief pad that contours to the horse's shape and lifts the rug off the withers, are in addition to the Cozi-guard, snug fit, adjustable belly wrap and quick clip front closure, twin low cross surcingles and full wrap tail flap. Plus, for increased visibility during darker mornings and nights, there are reflective inserts in the front gussets and tail flap.
With gifts starting from just $7.99, take a sneak peek at our full gift guide here: www.weatherbeeta.com/christmas