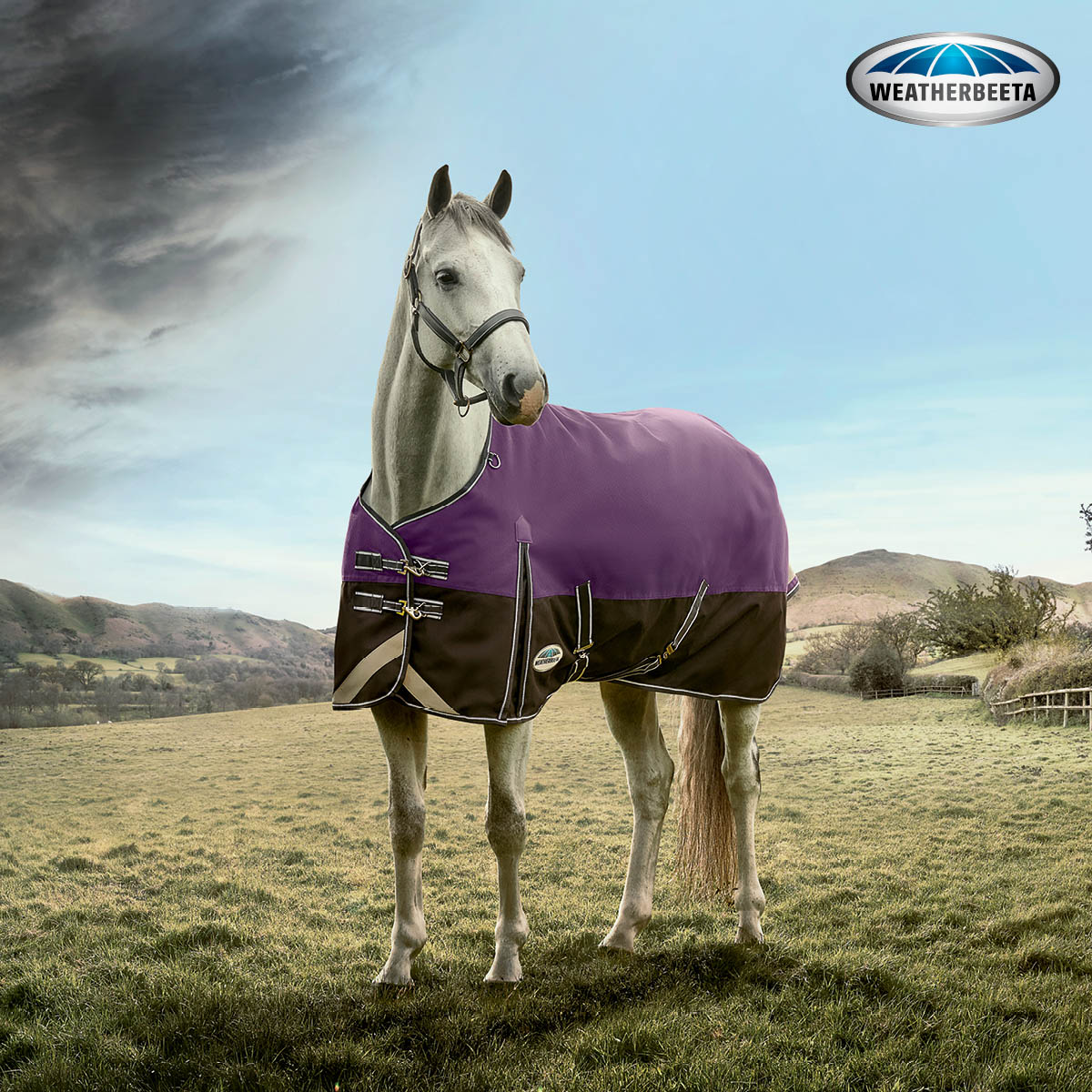 Following the huge success of WeatherBeeta's Green-Tec launch, a new color and neck style has been introduced for Spring '21. The Green-Tec Lite Plus will be available in a Standard Neck version ($224.99) in the new Light Gray/Bottle Green colorway, and in Detach-A-Neck Lite Plus in Black/Bottle Green ($269.99). Each blanket saves over 340 plastic bottles from going into landfill or the ocean. That is not the only reason why this blanket is a better choice for the environment; the blankets' fabric uses 50% less energy to produce than a traditional turnout blanket.
Due to the fantastic social media frenzy surrounding the WeatherBeeta Ombre range, WeatherBeeta have decided to launch the ComFiTec Plus Dynamic Lite in the stunning Purple Print Ombre, available as a standard neck ($159.99). The great features offered from the Plus Dynamic range, include 1200 denier triple weave outer shell, memory foam wither relief pads, reflective strips on the front each side and large tail flap for added visibility, plus much more!
With a new season, comes a new, fun print from WeatherBeeta! This spring go wild for Giraffes! Available in the ComFiTec Essential standard neck ($119.99), this cute new print is sure to turn heads. With a super strong and durable 1200 denier ripstop weave, traditional shoulder gussets for natural movement and 100% boa fleece at wither. Don't forget to deck your horse out in the full wardrobe! The Giraffe Print is also available in the Essential Mesh II as a Combo ($104.99) & Standard Neck ($94.99), Fleece Cooler ($87.99), 1200D Wide Tab Long Travel Boots ($131.99) and Hay Bag ($27.50).
New for Spring 2021, the WeatherBeeta ComFiTec Sweet Itch Shield Combo Neck offers protection from UV rays, sun bleaching, parasites and insects avoiding irritation and skin allergies such as sweet itch. Made from a strong 600 denier ripstop outer, with lined shoulders to help prevent rubbing and stretching, elasticized and adjustable belly wrap and full wrap tail flap for ultimate protection with ear hood with elastic insert around the ears to ensure the neck area of the blanket stays in place for complete protection and added comfort. Featuring wither relief for additional comfort and to reduce rubbing, traditional side gusset for natural movement and Ezi-clip front closure with touch tape. Offering 90%+ UV block. ($99.99)
The ComFiTec Airflow II features the new ultra belly wrap for extra protection. Available as a Detach-A-Neck and Standard Neck for versatility, this fly sheet offers all over comfort and premium protection. The soft and durable mesh outer is breathable and provides insect protection with 75% UV block. (From $114.99)
Returning for Spring 21, the popular ComFiTec Durable and Fine Mesh Masks will be available to help beat the pesky flies. The ComFiTec Durable range offers a durable mesh that is sturdy and easy to see through, whilst the ComFiTec Fine Mesh range uses a fine mesh to allow for full vision. Both styles offer double darts for a superb fit, adjustable double touch tape tabs for ease of use, soft fleece binding for additional comfort and stretch fleece poll for a secure and comfortable fit.
Available in 4 different styles with and without noses and ears, these masks provide 60%+ UV block, and prices start from just $24.25.