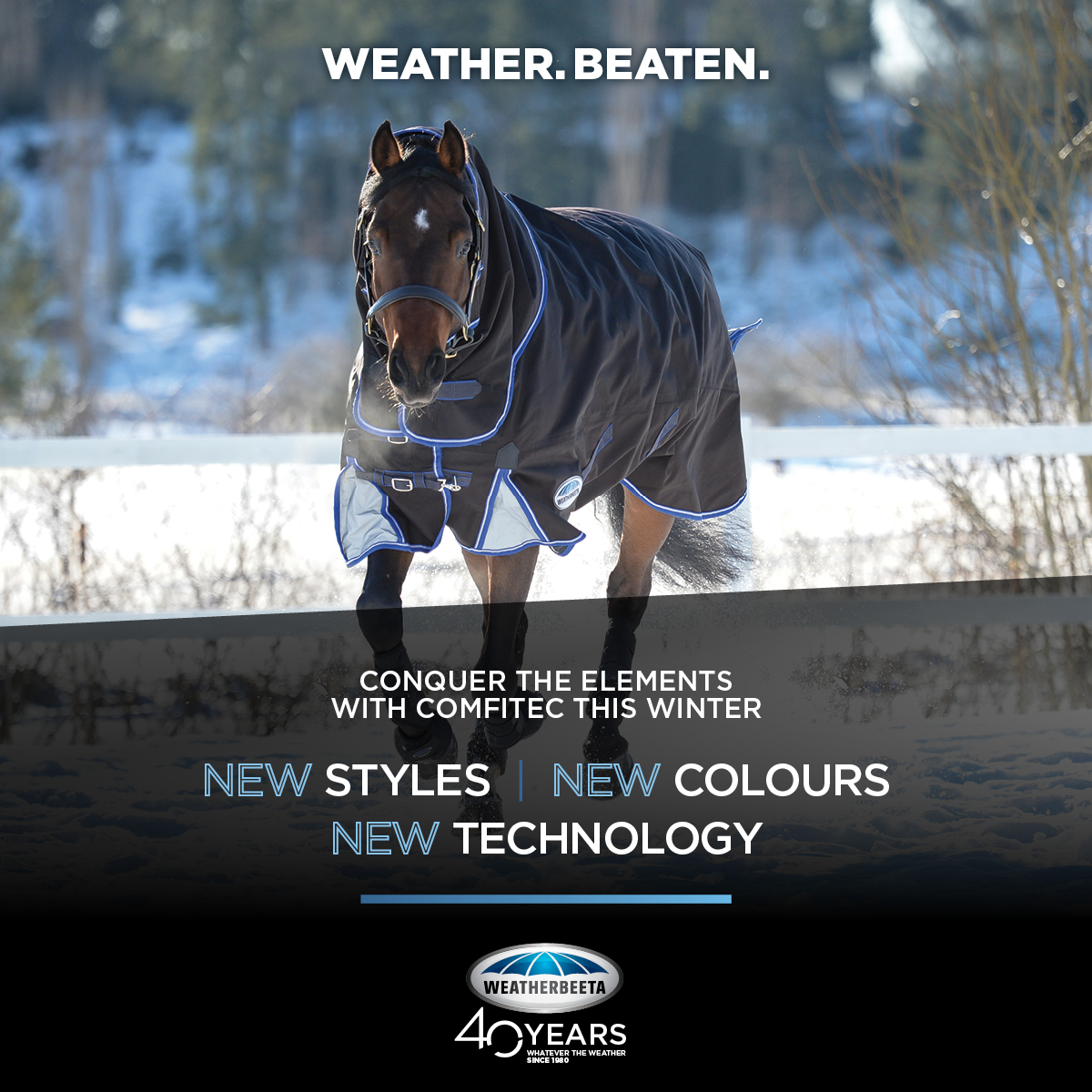 The WeatherBeeta Winter 2020 range continues to flourish with new and exciting additions to many of the ranges. From new products to fun prints and colors, our Winter 2020 range will leave both horse and owner happy. Developing further into the versatility of WeatherBeeta blankets, our popular liner system has been combined with the top of the range ComFiTec blankets.
As of Winter 2020, the ComFiTec Ultra II and Premier II ranges will now feature fastenings and fittings to allow for the addition of liners. The liners are available in 3 different weights and are brimming with features; 210 denier channel quilted outer; freedom system compatible gusset, touch tape tabs and clips for ease of use, and a touch tape front closure.
Additionally, the ComFiTec Premier Free range offers a new core color, Dark Blue/Gray/White, which is super smart and eye-catching. The Premier Free range is built for high levels of freedom of movement and is particularly well suited to wide chested horses. The full embrace wrap offers a huggable fit with concealed Ezi-buckle closure to ensure optimum safety in the paddock. A feature which continues to make our blankets stand out from the crowd, is the Memory Foam Wither Relief Pads. Available in our Ultra, Premier and Plus Dynamic Ranges, the two memory foam pads sit either side of the horse's withers and contour to the horse's shape to lift the rug off the horse, preventing rubbing and sores.
The ComFiTec Plus Dynamic Range welcomes the addition of two strong new colors. Simple and classic Grey/Burgundy and in a fun, eye-catching Navy/Light Blue/Purple Plaid. Additionally, the WeatherBeeta ComFiTec Essential Standard Neck is offered in this seasons NEW Otter Print and NEW Bright Purple/Green, alongside NEW western prints such as Aztec Print and South West Spice. Strong classic style at a great price.
To match your pooch to your pony, the WeatherBeeta ComFiTec Premier Free Parka Dog Coat offered is brand new and is offered in this season's Otter Print design, as well as Bright/Purple Green, Dark Blue/Grey/White & Green Pheasant Print. Additionally, the WeatherBeeta Fleece Cooler Standard Neck is also offered in this seasons NEW Otter Print, plus NEW Dark Blue/Gray/White, NEW Black/Green, NEW Navy/Light Blue/Purple and Navy/Red/White.