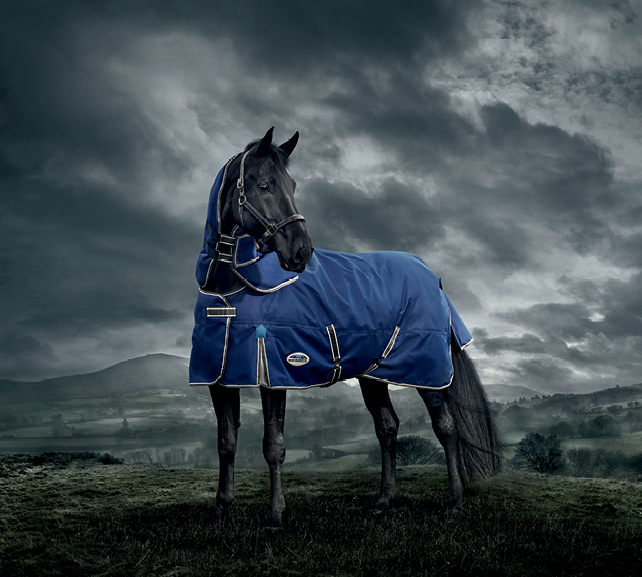 The transition of seasons from summer into autumn is a bittersweet time for horse owners. While welcoming the cooler weather and fewer flies for our horses, we know in the back of our mind dark nights and muddy fields are on the horizon. For the WeatherBeeta family, this is perhaps the most exciting time of the year as our Autumn Winter range is ready to be shared with the world.
The whole team have been working tirelessly over the past year to launch this new range from product development, to sales, to marketing. We have refreshed some classic WeatherBeeta styles with new colors, prints and features, as well as bringing new products to life we're sure you will love. This season's color palette mirrors the autumnal feeling in the air with rich maroons, deep blues, and earthy browns.
Let us introduce you to a few of the highlights of the range. Your horse's well-being and protection, no matter what the weather throws at us, is at the heart of everything we do… and this season is no exception. Welcome to the Autumn Winter 2021 range. Weather. Beaten.
A NEW PRINT TO STEAL
Drum roll please! The new WeatherBeeta print for winter 2021 is… Raccoon print! These rebellious rascals are known for their burglar look with their dark eyes giving them the appearance of wearing a mask. However, it is more than just a fashion statement. The black fur absorbs incoming light to reduce glare which helps them to see better in the dark, when they are most active. Unfortunately, our new print will not help your horse see better in the dark (try feeding him extra carrots) but it's sure to make the rest of the herd jealous.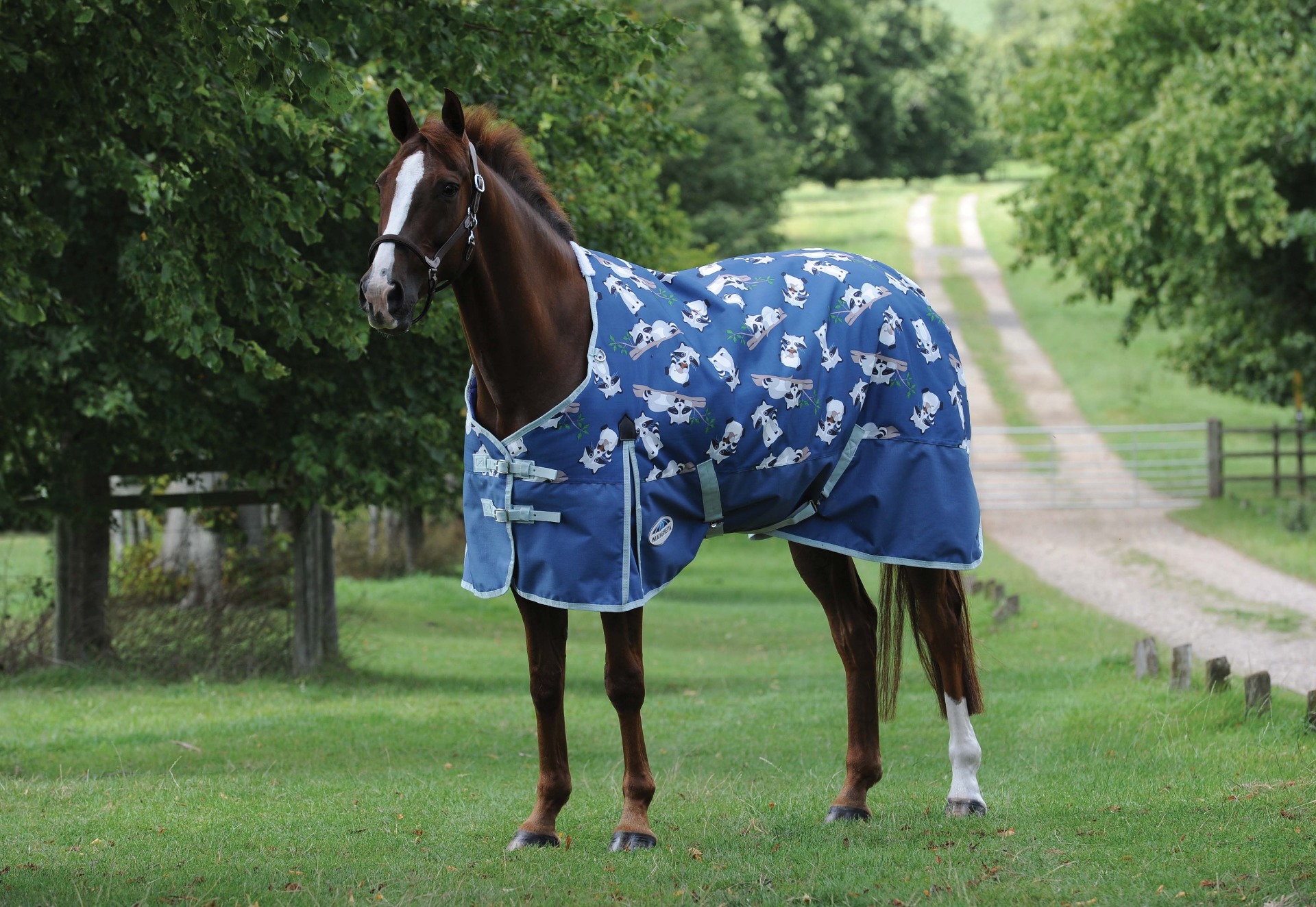 The WeatherBeeta ComFiTec Essential Standard Neck Medium is a classic style in the exciting new Raccoon print. This rug is warm and durable with a cosy 220g of polyfill and a strong 1200 denier ripstop outer which is waterproof and breathable. Signature WeatherBeeta features include side gussets for excellent freedom of movement when galivanting in the field; boa fleece wither for comfort and to prevent rubbing; twin low cross surcingles and adjustable leg straps.
Shop WeatherBeeta ComFiTec Essential Standard Neck Medium Now
MARVELLOUS MAROON
If Raccoon print isn't to your taste, give your horse a touch of sophistication with the new Maroon. Maroon is often associated with luxury due to the regal tones of red combined with purple to give a deep and rich colour. This refreshing new colourway helps to bring in the new autumnal season and is available across the new WeatherBeeta ComFiTec Plus Dynamic II Turnout range.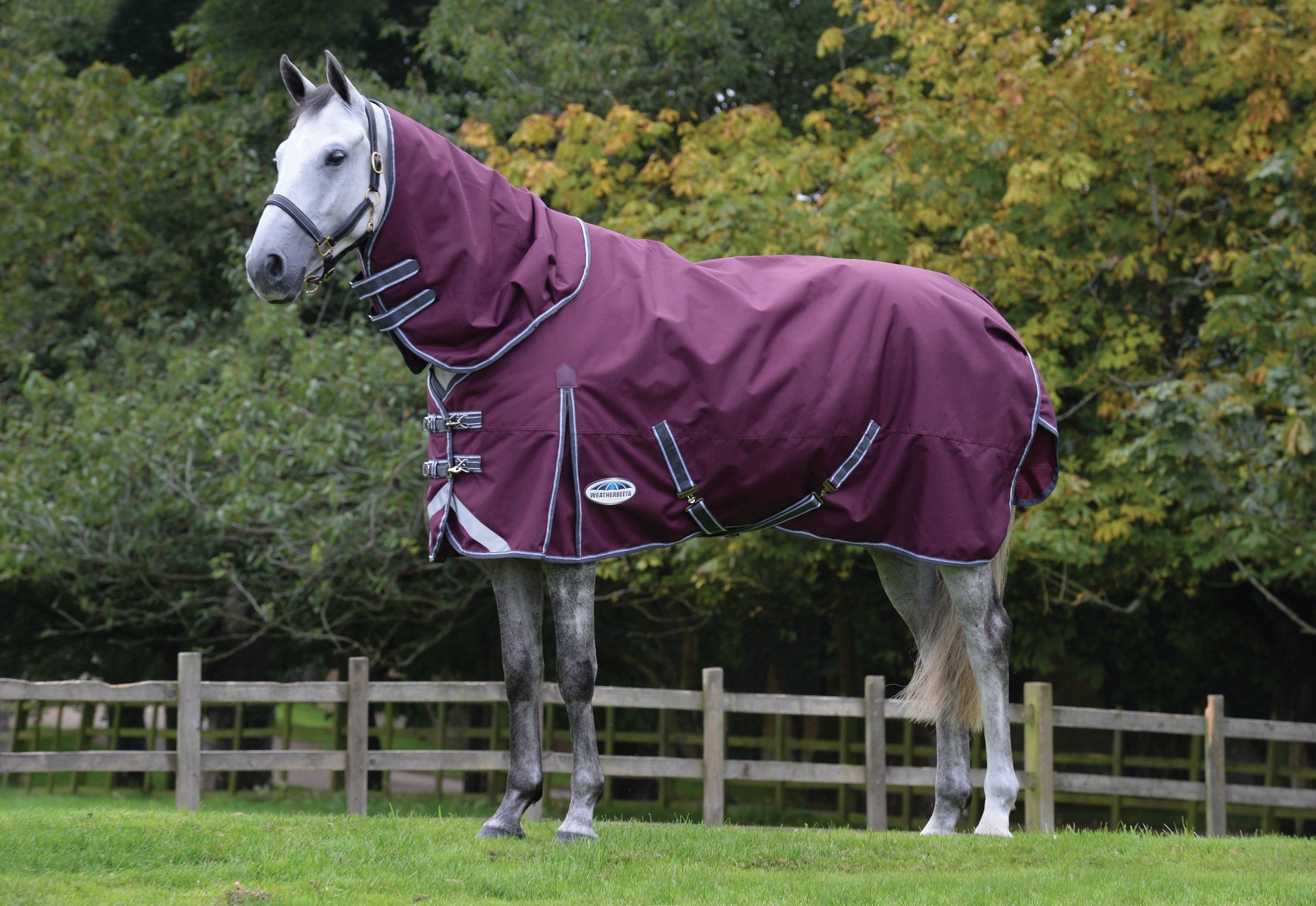 The WeatherBeeta ComFiTec Plus Dynamic II Detach-A-Neck Lite is the perfect transitional turnout blanket for summer into autumn. For warmer days, this blanket has a detachable neck and 0g of polyfill to keep your horse dry and cool. For colder days, this blanket is compatible with the new WeatherBeeta liner system so you can layer up. It features a super strong 1200 denier triple weave outer shell; memory foam wither relief pad that contours to the horse's shape which lifts the rug off the wither to reduce rubbing; new extra large tail flap for maximum protection. Complete with quick clip front closure, side gussets, reflective strips, twin cross surcingles, and leg straps.
Shop WeatherBeeta ComFiTec Plus Dynamic II Detach-A-Neck Lite Now
THE TOUGHEST TURNOUT RUG- NOW IN A NEW WEIGHT!
Perfect for blanket wreckers, and now available in 3 different weights!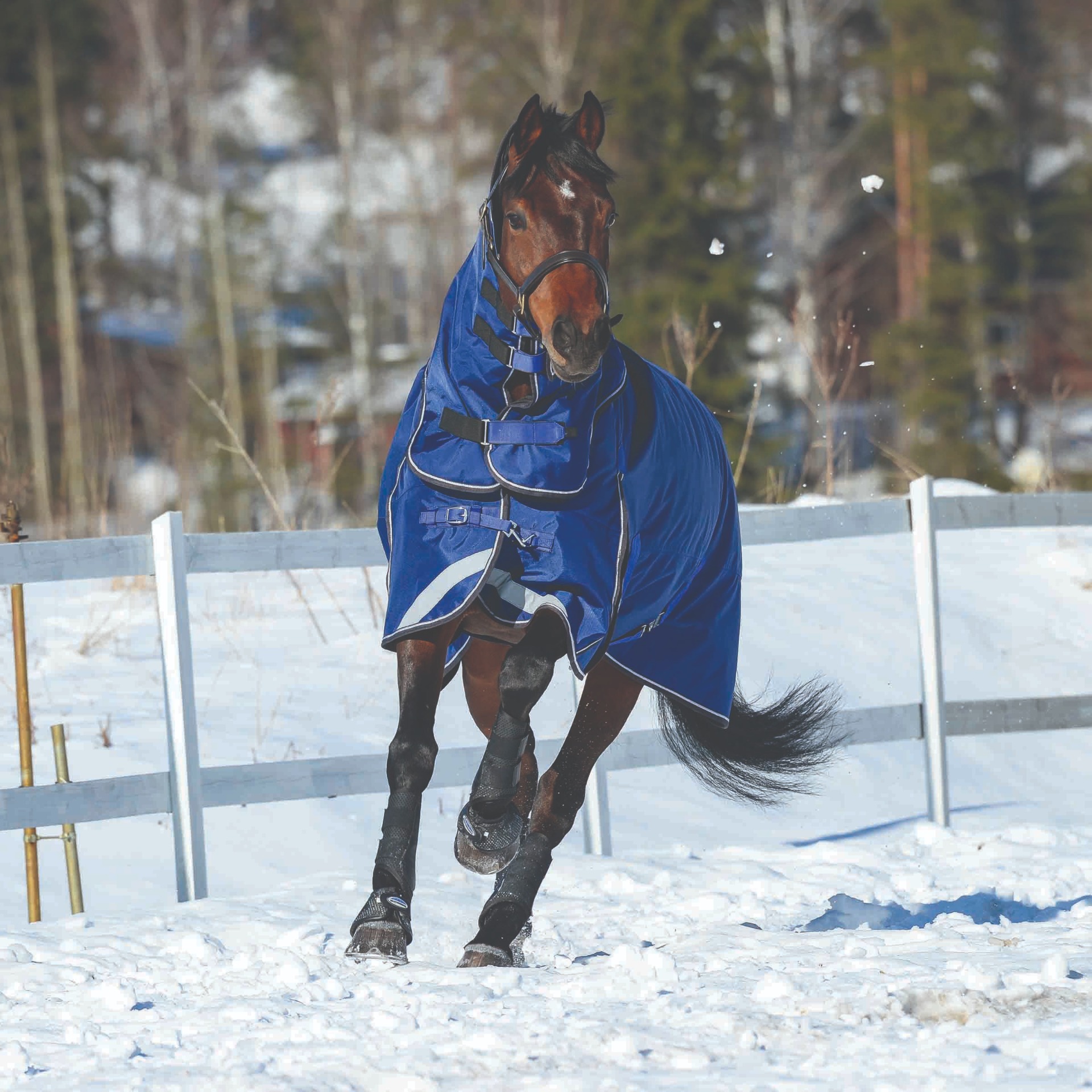 The latest addition to the Ultra II range, this turnout blanket has 100g of lofty polyfill insulation, making it ideal for the start of winter. It is compatible with the new liner system to allow versatility throughout the seasons. It is made with ultimate strength 1680 denier ballistic nylon for durability. Packed with additional features, the memory foam wither relief pad contours to the horse's shape and lifts the rug off the wither to reduce rubbing, and the freedom system featuring cupped shoulder dart with forward positioned gusset allows for the ultimate freedom of movement. There's a reason we call this rug Ultra! Complete with full wrap tail wrap, quick clip front closure, reflective strips, and adjustable padded leg straps.
Shop WeatherBeeta ComFiTec Ultra Tough II Detach-A-Neck Medium/Lite Now
A TREAT FOR YOURSELF TOO
Us horse owners love to spend all our money and time on our beloved best friend, but you deserve a treat too! Say hello to the Dion Puffer Vest.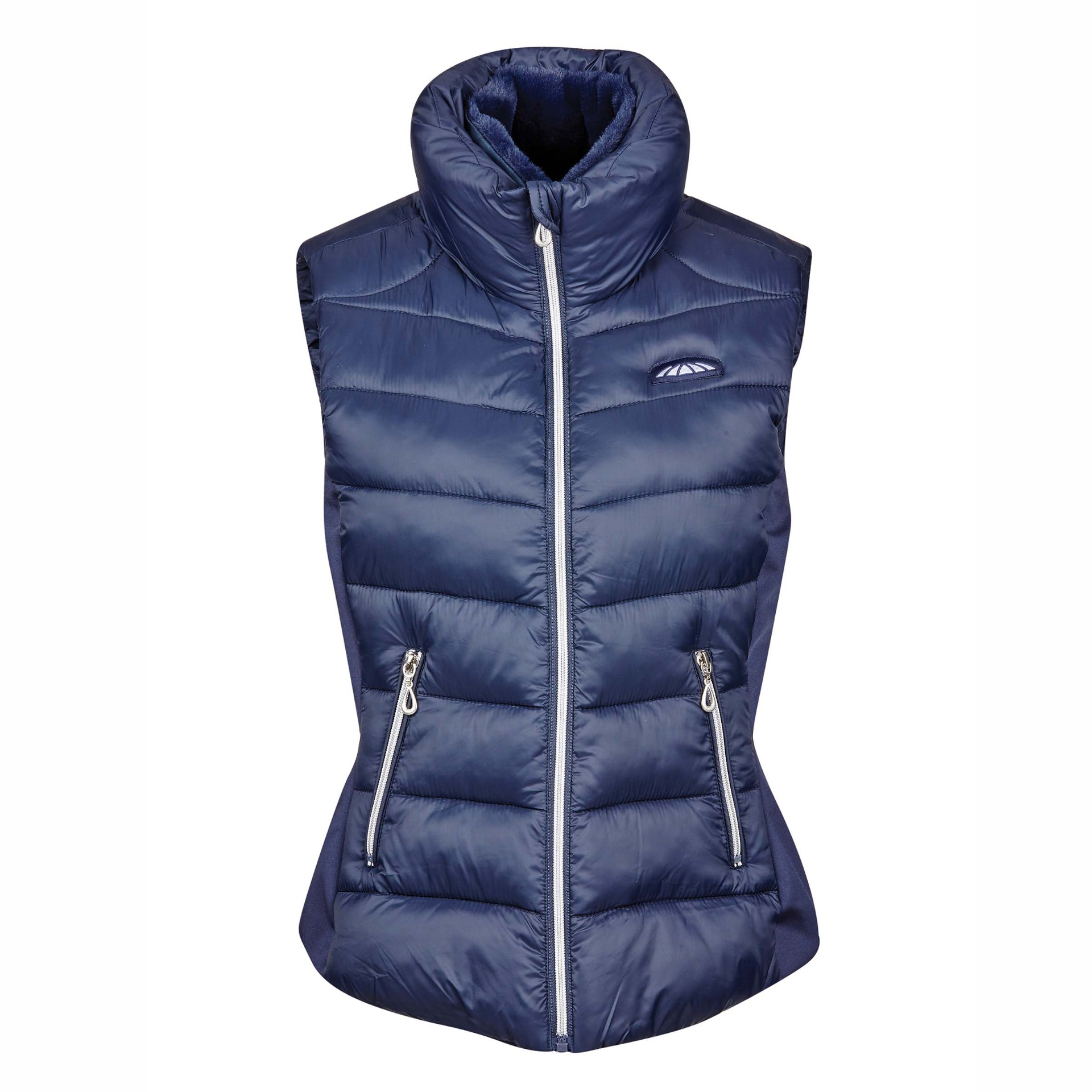 Sporty, yet elegant nylon puffer in a flattering fit. The chic silver nylon full center zip and pockets, mock inner collar and back riding vents with snap closure provide a stylish look this winter. This puffer vest is perfect for riding and training, with its wind and water resistant properties.
We have only scratched the surface with what is coming this winter season. Make sure you are signed up to the WeatherBeeta Family newsletter to be the first to hear about new releases.
In the meantime, explore the full Autumn Winter 2021 range here