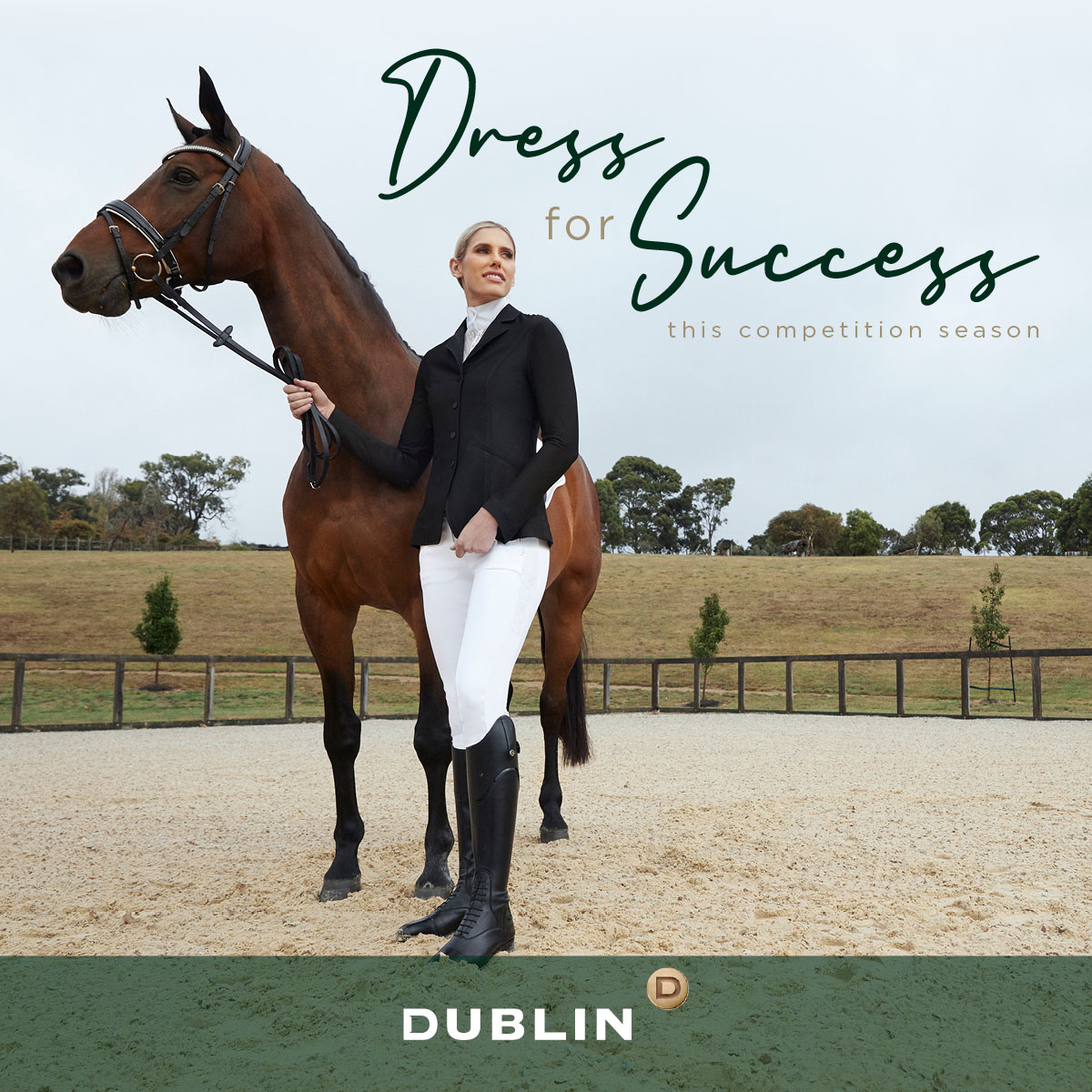 What to wear for dressage – A guide to women's and children's competition clothing
It can seem daunting the prospect of entering a dressage competition. If you are reading this blog, I can guess you are fairly new to dressage, or you are looking to get back into it. A common fear with many amateur riders is not knowing what is appropriate clothing to wear on the big day. In this guide we will take you through what to wear for an unaffiliated or affiliated low level dressage test. Unaffiliated is a term used for any competition which is not associated with the United States Dressage Federation (USDF), the national governing body for dressage in the US. Unaffiliated competitions can sometimes be more relaxed as they do not have the same rules to adhere to. However, most unaffiliated competitions will run under USDF rules. If you are ever unsure, always contact the event organiser who will be happy to help.
Jackets
Let's start with a jacket. Most riders you see competing will be wearing a show jacket. This is a plain fitted blazer, typically black or navy. Most dark neutral colors are permitted; avoid any patterns or bright colors. Tweed (hacking) jackets are also an acceptable choice for dressage.
Dublin Hanna Mesh Tailored Jacket II
The Dublin Hanna Mesh Jacket is a popular choice as it is versatile enough to be worn in most disciplines. It is made from a stretch mesh material which is lightweight and easy to move in, making it ideal for summer days. This jacket can also be layered up with a thicker show shirt for the winter. The princess seam construction gives a flattering, tailored look to all riders. It is double vented to sit neatly over the saddle and has a hidden zip front for a secure fit.
Tops
Next, we move on to show shirts. Show shirts are designed to be worn under your jacket; they are typically white or cream in colour and are made from a lightweight material. They are a diverse piece of clothing worn in dressage, show jumping, eventing, showing, the list goes on! There are a range of styles and designs available on the market. Choose from short or long sleeves, or sleeveless depending on the time of year you are competing. In the summer months, many judges will permit riders to compete without a jacket, however your shirt will need to have sleeves. Most show shirts are made of a combination of mesh and another material for comfort and breathability. Show shirts should be paired with a tie or a stock which is white, cream, or a dark neutral colour. Ready tied stocks are available for convenience.
Dublin Tara Competition Lace Shirt
This slim fit slow shirt is a great choice for summer competitions or for those who want a shirt with a touch of elegance. It features a beautiful lace bib and back panel as well as rhinestones up the front placket.
Dublin Ria Short Sleeve Competition Shirt
For those looking for a more classic look, try the Dublin Ria Short Sleeve Shirt. The stretch woven collar is suitable for a stock or a tie, and the shirt is made from a Comfort Dry fabric to keep you cool and dry all day long.
Legwear
Now we are talking legwear. Traditionally breeches or jodhpurs are worn for dressage. They must be plain white, beige, or cream in color to complement your show jacket. No branding is permitted on breeches at any level. Remember to wear a pair of over trousers on the day to keep your white breeches clean until you enter the arena! New developments in technology have led to a rise in riding tights that are USDF compliant. Many riders opt for tights instead of traditional breeches as they can be more comfortable to ride in. A great example of USDF legal riding tights is the Dublin Cool-It Gel Riding Tights.
Dublin Performance Cool-It Gel Riding Tights
The ultimate performance riding tights, designed to be worn all day long. The super stretch fabric offers maximum rider freedom, while the full seat PU silicone gel provides stability in the saddle. These are a pull-on style with belt loops on the waistband for a sophisticated look.
Dublin Prime Gel Full Seat Breeches
For those who prefer the traditional look of breeches, the Dublin Prime Gel Full Seat Breeches are made from a technical fabric with air cuff panels around the ankle for comfort and freedom of movement. The full seat of Ezi-Grip gel offers maximum grip, while the mid-rise design gives a secure fit.
Footwear
Now, onto footwear. You want to choose a pair of boots that are comfortable and smart. They should be either black or brown. Many riders opt for tall riding boots as they are smarter in appearance, however paddock boots and chaps are also acceptable and can be a good alternative when the weather is warm. The most important thing is that the boots you are riding in are comfortable for you. If you have a different pair of boots for competing and everyday riding, make sure you have properly worn in your competition pair. If you are uncomfortable in your boots, this will affect your riding and ultimately your test. Traditionally, dress boots are worn for dressage, these are tall riding boots that are plain with no laces on the front. These sleek boots are designed to elongate the rider's leg for a beautiful position.
Dublin Galtymore Tall Dress Boots
Made from full grain European leather, these boots are contoured through the ankle with a high Spanish cut top line to give a stunning elongated leg when in the saddle. They feature an RCS Ultra footbed, our most advanced footbed technology, for all day comfort and moisture control. Complete with spur rest, durable outsole, and full length YKK zipper.
Dublin Rapture Zip Paddock Boots
Featuring a European full grain leather and breathable mesh lining. Featuring a smart pin punch designed heel and toe cap, with Dublin branded spur rest and YKK Dublin branded quality zipper. Includes a luxuriously comfortable RCS memory foam PU foot-bed for ultimate comfort.
Pair your paddock boots with a pair of half chaps to complete the look. These high-quality suede chaps have an elastic calf for a comfortable fit and feature a full length YKK zip for security.
Riding Helmet
All riders must wear a riding helmet for all competitions. Your riding helmet should conform to the latest safety standards. Protective headgear is defined as a riding helmet which meets or exceeds ASTM (American Society for Testing and Materials)/SEI (Safety Equipment Institute) standards for equestrian use and carries the SEI tag. The harness must be secured and properly fitted.
Accessories
You are almost ready for your dressage test! We just need to talk accessories. At most competitions you will be required to wear gloves. These can be any color but stick to something neutral, no crazy patterns allowed. Most riders will choose white or a dark color to complement their outfit. Choose a pair that you are comfortable riding in and have a good feel on the reins.
Dublin Everyday Might Grip Riding Gloves
Made from an easy to care for and durable synthetic leather, these gloves are ideal if you are looking for a pair to use at home and in the arena. Flex knuckle panels allow free movement of your hands, and the touch tape wrist closure gives a secure fit.
A great choice for the young rider, these gloves are made from soft cotton for comfort. They feature reinforced finger patches for durability and touch tape wrist closure for a close fit.
And finally, can you carry a whip? At most low-level competitions, you will be permitted to carry a schooling whip for your dressage test. However, if you are eventing, or competing at a Championship, whips are not permitted. It is always best to check with the organiser if you are unsure.
A perfect choice for schooling or competing, the Dublin Non-Slip Handle Dressage whip is a black dressage whip with a super grippy handle.
Now you are ready for the arena, good luck with your test. Remember the most important part of any competition… have fun! Everyone begins somewhere, so do not be put off if there are more advanced riders in your class. You are only competing against yourself. Go out there and have fun, if you have a smile on your face then you have already won. Be sure to tag Dublin Clothing in any pictures you upload to social media, we would love to see them.